ANALYSIS: Why is Russia in favor of a nuclear deal with Iran?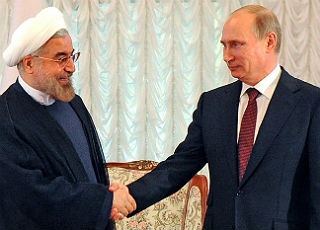 By Rob Nikolewski
One big energy-related question stands out as a June 30 deadline for a controversial nuclear arms agreement with Iran closes in: Why does Russia want it?
After all, an agreement — which the Obama administration and Secretary of State John Kerry are pushing — figures to have destructive ramifications on Russia's energy sector. One would think the government of Vladimir Putin would be firmly opposed to any let-up of economic sanctions against Iran.
But the Russians — a member of the negotiating team known as the "P5 +1″ — are completely on board.
"The lifting of anti-Iranian sanctions — both those imposed by the United Nations Security Council and all unilateral restrictions — meets our national interests," Russian Foreign Minister Sergei Lavrov said last month.
But from an energy perspective, lifting economic sanctions on Iran appears to make no sense for Moscow.
After all, the Russian economy is heavily reliant on oil and gas, and a nuclear agreement would allow Iran — which has sizable oil and gas deposits — to better compete on the global stage.
The big drop in oil prices in the past six months is delivering body blows to the Russian economy.
For example, estimates from The Economist magazine say Russia needs the price of oil to be near $100 a barrel to break even. But the price of Brent crude — the generally accepted international price — dropped below $50 a barrel in January and is in the $65 range.
When and if sanctions on Iran are lifted, a flood of Iranian oil is expected to rush onto the open market. It's estimated 1 million barrels a day could be added within 12 to 18 months, which will put even more downward pressure on global prices.
Should the Iran nuclear deal get finalized, the Energy Information Administration projects prices could drop $5 to $15 per barrel price in 2016.
That has some energy experts scratching their heads.
David Pursell, managing director and head of securities at the energy investment and banking firm of Tudor Pickering Holt and Company, describes the Russians as "the wildcard" in a nuclear agreement.
"The Russians want sanctions lifted so they can sell military equipment into Iran," Pursell told reporters after speaking at the Platts Rockies Oil and Gas Conference in Denver last month. "But they don't want oil sanctions (on Iran) lifted."
But under the framework of the deal, Russia doesn't appear to be in any position to keep some sanctions in place while lifting others.
Natural gas is another aspect of a deal with Iran that appears to hurt the Russian economy.
Iran's supply of natural gas is enormous, and lifting sanctions against Tehran could, by all indications, take a big bite out of Russia's state-owned natural gas monopoly, Gazprom.
Despite holding many a virtual death grip on natural gas supplies to European nations,Gazprom's profits have fallen some 30 percent over the past four years. Competition from Iranian gas figures to make the situation worse for the Russians.
So, between the blows Russia would absorb from oil and gas, why does Moscow want to sign off on a nuclear deal with Iran?
It appears it's a case of a global power making a decision that's based more on political considerations than financial self-interest.
"There is an economic cost to them," Tom Petrie, chairman of Petrie Partners, an investment banking firm that offers financial advisory services to the oil and gas industry, told Watchdog.org. "But I believe the geopolitical considerations of their overall alignment with Iran and the Middle East appears to trump that."
Russia has made a concerted effort to reach out to Iran, with Putin and government officials holding a series of meetings in recent years with the upper echelon of the Iranian government.
Just moments after a framework for a nuclear agreement was announced in April, the Russian government announced it was selling Iran a sophisticated S-300 missile system capable of shooting down aircraft over a large area.
In addition to strengthening Iran's military, the sale was interpreted as a move by Russia to solidify its relations as a trading partner of Iran and enter the Iranian market before a nuclear deal is finalized.
Itself a target of sanctions by the U.S. and European nations for its incursion into the Crimean Peninsula, Russia has made a concerted effort to describe its relationship with Iran as one that's in common cause against Western powers.
On Wednesday, the two countries announced they would start a bartering program in which Russia would supply Iran with grain in exchange for Iranian dairy, fish and meat products.
It's not a significant deal economically, but it underscores Russia's desire to align itself more closely Iran and expand its influence in the Middle East, where Russia hassupported the Bashar al-Assad government in Syria in its fight against rebel militia groups.
"Russia seems willing to become the leader of rogue states, if you will," Russian military expert Alexander Golts told the Washington Post. "It's really just a new opportunity to send the same clear signal to the West: You want to isolate us, you want to ignore us? Okay, look what we can do."
Putin has also wooed China, with the former Cold War rivals agreeing to joint naval exercises in the Mediterranean and Russia announcing it will be a major investor in a proposed development bank operated by China.
Natasha Udensiva, lecturer at the Harriman Institute for Russian, Eurasian and East European Studies at Columbia University, thinks Russia may use the Iran nuclear negotiations as an attempt to get its own sanctions lifted.
"They could say, OK, we will support weakening sanctions for Iran but (in exchange), you don't bother us with Crimea," Udensiva told Watchdog.org.
That could make Russia's short-term pain worth the effort, especially if, Udensiva said, the lifting of sanctions on the Putin government leads to the elimination of restrictions in the Arctic and the energy-rich Bazhenov formation in western Siberia, which would pave the way for joint drilling operations with Western companies.
As for Iran, lifting the sanctions figures to give the Islamic Republic a big economic boost.
According to Nicole Leonard, analyst at Bentek Energy, sanctions have reduced Iran's crude oil output from 3.6 million barrels a day in 2011 to 2.8 million barrels a day in the first quarter of this year.
"It certainly is a lot of oil," Leonard told Watchdog.org.
A nuclear agreement may potentially lead to billions in foreign investments to tap into Iran's natural gas and petrochemical industries in particular and the country's consumer market in general. Even with sanctions, the Iranian economy ranks among the world's Top 20, according to the World Bank and the International Monetary Fund.
"The Iranians will need help with the producing and with development, and Russia may be one of the countries that may be willing to come to the Iranian market, to turn a competitor into a cooperator," Udensiva said.
Of course, a nuclear agreement with Iran still isn't a done deal.
The Obama administration is lobbying hard but has met resistance from members of Congress — even from some Democrats — suspicious that Iran will balk on meaningful inspections of their nuclear facilities.
President Obama has tried to pacify critics, saying sanctions will be lifted gradually and, if Iran cheats, the restrictions can be "snapped back" quickly.
But Iran's leadership insists the sanctions must be lifted as soon as the ink is dry on an agreement, and there's no guarantee the country's hardliners will even agree to a deal.
On Wednesday, for example, Ayatollah Ali Khamenei appeared to put up a potential roadblock when he attacked any talk of inspections.
"The impudent and brazen enemy expects that we allow them talk to our scientists and researchers about a fundamental local achievement but no such permission will be allowed," Khamenei said, addressing Iran's military commanders in a speech broadcast on state television. "No inspection of any military site or interview with nuclear scientists will be allowed."
WATCHDOG.ORG