Saudi Arabia vows to 'match Iran's nuclear capability'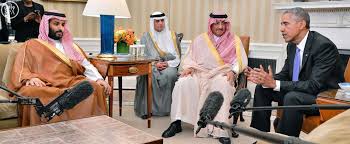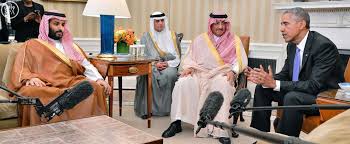 Saudi Arabia has threatened to spark a new kind of nuclear arms race in the Middle East, setting out a bullish stance ahead of a rare, high-profile meeting of the US and its Gulf allies at Camp David.
President Barack Obama faces an almost impossible balancing act between making overtures to Iran that will allow it to pursue its nuclear program for energy purposes, and appeasing the security fears of Sunni Arab leaders.
On the table in American-Iranian talks is the prospect that the latter will be allowed to keep 5,000 centrifuges, used to enrich uranium, and a growing research and development operation.
But tensions over the US's thawing policy towards Tehran will loom large over the meetings, already threatened by the decision of key states to send lower-level dignitaries.
According to the New York Times, one Arab leader who is preparing to meet Mr Obama today has said: "We can't sit back and be nowhere as Iran is allowed to retain much of its capability and amass its research."
And while the figure behind this claim asked to remain anonymous until he had put it directly to the President, the Times said it was the same message as that touted by former Saudi intelligence chief Prince Turki bin Faisal, who said in South Korea recently: "Whatever the Iranians have, we will have, too."
It sets up the prospect of a new kind of arms race between the Middle East's various parties – the implication being that if Iran is to be left to its nuclear program , why shouldn't Saudi Arabia, Qatar, UAE?
The Gulf leaders are concerned that the White House's nuclear deal with Tehran, instead of limiting the threat posed by that state, will allow Iran to grow into a dangerously destabilising force in the region.
President Obama wants to win round the visiting Gulf Cooperation Council (GCC) states in order to convince the US Congress that its Iran deal has regional backing.
And White House spokesman Josh Earnest said on Wednesday that the bulk of the Camp David talks will centre on allaying security fears to get that vote of confidence.
"That will be the essence of the conversations," Mr Earnest said. "What can we do to modernize and deepen that security cooperation?
"Much of what the president has in mind is helping the GCC countries use the hardware that they have to better coordinate their efforts and better provide for the security of their citizens."
The most high-profile absence at the summit is the Saudi King Salman. On Sunday, it was announced that the king would not be travelling to the US – just two days after the White House confirmed he was coming.
Crown Prince Mohammed bin Nayef and Deputy Crown Prince Mohammed bin Salman will represent Saudi Arabia instead, in what was an embarrassing snub for the President.