Russia repays the favor, gives Kerry potatoes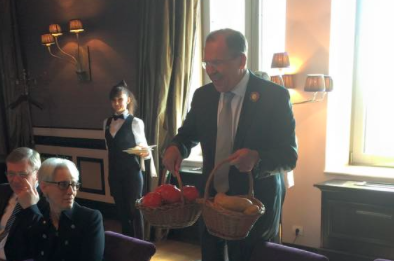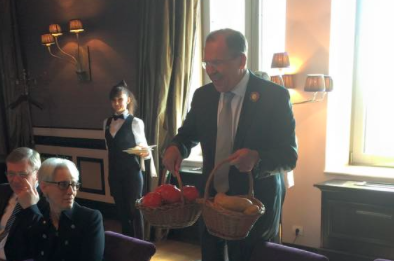 Things are so frosty between Russia and the United States these days that the slightest sign of warmth catches the eye – even a gift of spring vegetables.
Pictures from Sochi, on Russia's Black Sea coast, on Tuesday showed Sergei Lavrov, Russia's foreign minister, presenting John Kerry with two baskets of potatoes and tomatoes.
Mr Kerry, the US secretary of state, was in town to meet his counterpart and Vladimir Putin, Russia's president.
The unusual gift suggested a softening of mood amid prickly talks over the violence in Ukraine, Syria and Yemen. But why the spuds?
Mr Lavrov's present harked back to January 2014, when Mr Kerry gave Mr Lavrov two large Idaho potatoes as the pair met in Paris to discuss the Syria crisis.
The American said then that he and Mr Lavrov had spoken by phone when he was on holiday in Idaho, and the Russian recalled the region's famously giant tubers.
"He told me he's not going to make vodka. He's going to eat them," Mr Kerry explained after the Paris summit, adding: "I really want to clarify: There's no hidden meaning. There's no metaphor. There's no symbolic anything. … He recalled the Idaho potatoes as being something that he knew of, so I thought I would surprise him and bring him some good Idaho potatoes."
Mr Lavrov clearly wanted to repay the favour.
But had Mr Kerry's gift in Paris been reverse-engineered?
After meeting in France, Mr Lavrov admitted he'd sent the Idaho crop to farmers in Krasnodar region (where Sochi is located) who "would experiment on them a little".
Tantalisingly, Maria Zakharova, the Russian official who posted the Sochi pictures on Facebook on Tuesday, said the foreign minister's potatoes for Mr Kerry were indeed from Krasnodar. They were, she said, "distant relatives of those that his US counterpart once brought him".
Daily Telegraph