An extremist Sahara group pledged allegiance to the Islamic State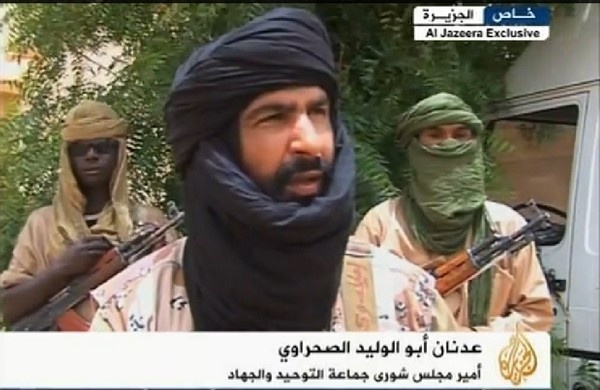 RABAT, Morocco  — An extremist group based in the Sahara desert known for carrying out terror attacks in Algeria, Mali and Niger appears to have pledged allegiance to the Islamic State group after years with its rival, al-Qaida.
If it is authenticated, the statement represents a major shift among extremist groups in the vast Saharan regions — and the possible demise of one of the most notorious extremists in the desert.
The audio recording from the Mourabitoune group was sent to a Mauritanian news agency late Wednesday that has carried its statements in the past and was in the name of Adnan Abu Walid al-Sahrawi, rather than the group's founder, Moktar Belmoktar, who gained notoriety for the January 2013 assault on an Algerian gas complex.
"We call upon all the jihadi groups to pledge allegiance to the Caliph, to unify the word of the Muslims and align the ranks in front of the enemies of religion," said al-Saharawi's statement, according to a translation by the U.S.-based SITE Intelligence Group on Wednesday.
Belmoktar, once known as the most dangerous man in the Sahara, formed the Mourabitoune in August 2013, combined his own group with another and had recently renewed his allegiance to al-Qaida.
"If it's confirmed, then we need to wonder about the whereabouts of Belmoktar," said Djallil Lounnas, an expert on North African Islamic groups. "He's either been removed, or killed or they split."
The group most recently attacked a restaurant filled with foreigners in the Malian capital, Bamako, in March. Belmoktar's most well-known operation was on an Algerian gas plant that resulted in a standoff with the Algerian military and the death of 39 foreign workers.
The Algerian-born militant was famous for extending al-Qaida's reach beyond the Algerian heartland and into the Sahara desert where he made contacts with disaffected tribes, especially from the Tuareg minority, and made millions off smuggling and kidnapping.
Several high-profile members of the group were caught and killed in the past year during French-led operations in northern Mali, where the group is believed to operate.
Associated Press/My way