UN experts condemn increase in Iran executions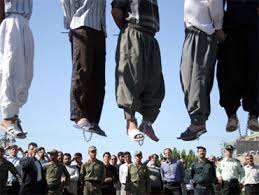 UN human rights experts on May 8 condemned the growing number of executions in Iran in recent years.
According to the Special Rapporteurs on the situation of human rights in Iran and on extrajudicial executions, Iran has executed about 350 people in 2015 and executed approximately six people per day between April 9 and April 26.
This year, Iran has performed 15 public executions, which the experts say "have a dehumanizing effect on both the victim and those who witness the execution, reinforcing the already cruel, inhuman and degrading nature of the death penalty."
Iran also executed at least 852 people between July 2013 and June 2014. Many of the crimes for which prisoners were executed were not "most serious crimes," with many executed for drug offenses.
The new Islamic Penal Code enacted by Iran in 2013 still permits death sentences for juveniles and for crimes like adultery, and repeated alcohol use. The UN is urging Iran to institute a moratorium on the death penalty and consider abolishing the practice.
WW4