UN Security Council rejects Russia's appeal for Yemen Ceasefire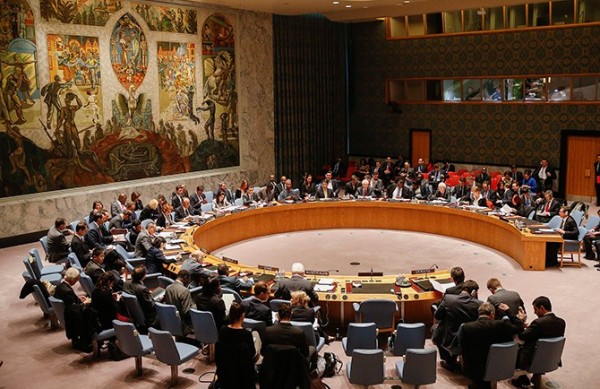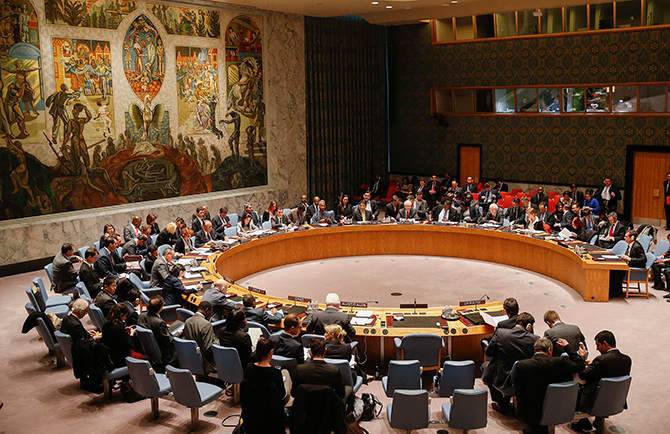 The UN Security Council failed Friday to back a Russian appeal for an immediate ceasefire or humanitarian pauses in war-torn Yemen, where critical fuel shortages threatened relief efforts and doctors described desperate scenes.
Russia requested an urgent meeting of the 15-member council as the Saudi-led air war on Yemen's Houthi rebels entered a sixth week, crippling deliveries of fuel, food and medicine.
The latest strikes and clashes on the ground killed 47 people in the second city of Aden, where the Red Cross scrambled to evacuate staff and patients from a hospital when it became a front line.
UN Secretary-General Ban Ki-moon has warned that fuel shortages could bring all relief operations to a halt "within days," echoing alarm from the International Red Cross and other embattled aid agencies.
During a closed-door council meeting, Russia proposed a draft statement calling for an immediate ceasefire or at least humanitarian pauses, and an urgent return to political negotiations.
But after the statement failed to win endorsement, Ambassador Vitaly Churkin said fellow envoys were showing "amazing indecision" in the face of the worsening humanitarian crisis in Yemen.
Russia's diplomacy has been greeted with some suspicion given Moscow's close ties to Iran, which is supporting the Houthi rebels, who have seized the capital Sanaa and forced Yemen's president into exile.
"If you cannot agree to a motherhood-and-apple-pie statement, what can you agree on? I don't understand," a despondent Churkin told reporters.
Diplomats said the Russian statement appealing for action was not rejected out of hand, but that council members needed time to consider the wording.
"There was a strong degree of council agreement on the desperate humanitarian situation in Yemen and need to return to political talks, but no agreement in the room on the exact wording of the statement," said a diplomat.
The World Food Programme said it was halting food distribution because most stocks of fuel were in rebel hands while the International Committee of the Red Cross (ICRC) raised alarm over the dire plight of doctors and medical workers.
"The surgical team from the ICRC and all local staff and patients were forced to evacuate Aden's Al-Jumhurriya hospital when the building itself became a front line in the fighting," the Red Cross said.
The ICRC said hospitals should be spared.
"We are shocked by the lack of respect for the hospital, as a neutral health facility, by the fighting parties," said its Yemen mission chief, Cedric Schweizer.
Doctors spoke of dire hardship.
"We are running out of diesel. Our ambulances can no longer transport patients. Only half of our staff can come to work as the hospital buses have stopped running," said Issa Alzubh, head of Sanaa's Al-Kuwait hospital.
A doctor in Aden, Adel al-Yafyi, said his hospital was now unable to care for ordinary patients because it was being flooded by those wounded in combat or air strikes.
The World Health Organization said as of Monday, 1,244 people had been killed in fighting in Yemen since March 19.
The WHO said the collapse of access to health care had fanned the spread of epidemic diseases, with 44 alerts of suspected outbreaks of diseases including measles, dengue fever and meningitis.
Last week, Riyadh announced a halt to the air war but since then it has kept up daily strikes.
The new UN envoy for Yemen is due to travel to the region next week for talks on advancing prospects for a return to peace negotiations, diplomats said.
It will be Ismail Ould Cheikh Ahmed's first visit to capitals in the Gulf and Middle East since he was appointed as peace envoy on April 25.
The Mauritanian diplomat was appointed to replace Jamal Benomar, who resigned after losing the critical support of Gulf states.
Talks collapsed after the Shia Houthi rebels went on the offensive, seizing Sanaa and advancing on Aden, forcing President Abd-rabbo Mansour Hadi to flee into exile to Saudi Arabia.
The Saudi-led coalition launched the air war on March 26 to prevent the Houthi rebels from taking the entire territory and to restore Hadi's authority.
UN efforts to resume peace negotiations for Yemen have run into hurdles over disagreements on the venue for the talks, with Gulf countries insisting they be held in Riyadh.
Churkin said the talks should take place in "neutral territory," suggesting Geneva as a venue, a proposal backed by some of the other Security Council members and also Iran.
After a meeting in Riyadh, Gulf Arab foreign ministers again rejected any moves to hold Yemen peace talks at a neutral venue and insisted that Riyadh be the meeting place.
Ahram online