Lebanon: Aoun, Hezbollah chief met in Dahiyeh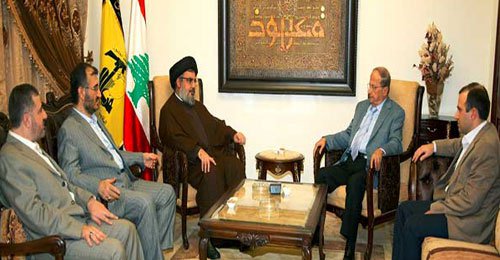 Hezbollah Secretary General Hassan Nasrallah met on Thursday with Free Patriotic Movement leader MP Michel Aoun at an undisclosed location in Dahiyeh to discuss the latest local and regional developments, the two parties announced in a statement on Friday.
The meeting was attended by Aoun's son-in-law Foreign Minister Gebran Bassil, Hezbollah Liaison and Coordination Officer Wafiq Safa, and Nasrallah's adviser Hussein Khalil.
The statement added that they focused on "the threat of takfiri terrorism, which jeopardizes the whole region."
The gatherers stressed the need to "confront it through all possible means and to protect Lebanon and its stability."
On local affairs, the meeting addressed the stalled presidential elections and various other issues.
The Lebanese parliament failed on April 22 and for the 22nd time in a row to elect a president to replace Michel Suleiman whose term ended on May 25.
As in the past sessions the parliament was unable to reach a quorum because the Iranian backed Hezbollah militant group and its ally Aoun's Change and Reform bloc MPs boycotted the sessions.
Speaker Nabih Berri who is allied with Hezbollah and Aoun postponed the election to May 13 , 2015 .
According to media reports Lebanon will not get a president before Iran gets its nuclear deal from the west in June . The reports indicate that Hezbollah is awaiting a green light from its backer Iran before it sends its MPS to the parliament .
The reports stressed that Iran is using Hezbollah and Lebanon's election to put pressure on the west to secure a favorable deal.