Syria's ex-spy chief Rustom Ghazali is dead , updates | pictures|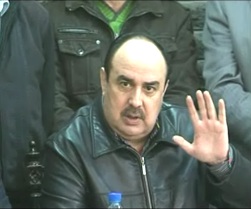 Another report  surfaced  Friday  indicating that the powerful former head of Syrian military intelligence in Lebanon Maj. Gen. Rustom Ghazali  has passed away.
Several reports surfaced during the past 3 years confirming that he died  and like all previous reports there are conflicts about the cause of his death  and where he actually died.
This report comes   just over  1  month after  it was reported  that he died in a hospital in Damascus, to which he was admitted under mysterious circumstances and after he was  badly beaten by Syrian security forces .
"He died at 7:00 a.m. today (Friday) in a Damascus hospital and will be buried tomorrow in the capital," AFP cited a family member as saying. The family source, who spoke on condition of anonymity, said Ghazali suffered from hypertension.
The Associated Press said Ghazali died in a hospital in the Syrian capital, citing the director of the Britain-based Syrian Observatoryfor Human Rights Rami Abdul Rahman. He did not say when Ghazali passed away, but that medical sources told him the ex-spy chief had been clinically dead for weeks, following a severe head injury suffered about two months ago.
His death has not yet been confirmed by any Syrian official announcement.
Ghazali  was the  former head of the Political Security Division and one of the main pillars of President Bashar al-Assad's regime . He was considered part of Assad's inner circle.
Ghazali was also the regime's coordinator with Hezbollah, which has been helping Assad against the rebels.
Ghazali was the most dreaded Syrian official during the military occupation of Lebanon and one of those suspects involved in the 2005 assassination of former Lebanese Prime Minister Rafik Hariri.
The last  medical report  about his death  indicated that Ghazali was either infected by a deadly bacteria or deliberately poisoned or the collapse of the vital functions of his body, was the result of the severe beatings earlier this year, the former spokesman for the Free Army Louay Mokdad said .
Ghazali was reportedly admitted to Al Shami hospital  in early March after news of a sharp disagreement between him and pro-Iranian Maj. Gen. Rafiq Shehadeh, head of the Military Intelligence Division as a result of which Ghazali was severely beaten by Shehadeh's bodyguards .
In September 2005, Ghazali was questioned on the Hariri assassination by United Nations investigator Detlev Mehlis. In December 2005, former Syrian vice president Abdul Halim Khaddam accused Ghazali of political corruption, dictatorial rule in Lebanon and of threatening Hariri prior to his death. After the withdrawal from Lebanon little was heard of him. However, at the beginning of the protests in Daraa, Ghazali was sent by Bashar al-Assad to assure locals of the president's good intentions. In May 2011, the European Union said Ghazali was head of military intelligence in Damascus countryside (Reef Dimashq) governorate, which borders Daraa governorate, and was involved in the repression of dissent in the region.
On 24 July 2012, Ghazali was appointed chief of political security.
Update: The Beirut-based Al-Mayadeen TV, which is closely associated with the   Syrian  regime and Hezbollah also reported Ghazali's death.
Ghazali, a Sunni Muslim from the southern village of Qarfa, rose in the military to become the intelligence chief in Lebanon in 2002, replacing long-serving general Ghazi Kenaan who became Interior Minister.
Ghazali kept the post until 2005 when Syrian forces  were forced to withdraw , ending nearly three decades of military occupation
Kenaan, the Interior Minister, died in his Damascus office in late 2005 about a month after speaking with investigators about Hariri's assassination. Syrian officials said he shot himself in the head to death "several times" , but many  in Lebanon believe he was killed.
Update:  It is official , Ghazali is dead
Here are pictures of his funeral and the announcement of his death:
The prayer was held at Lala Pasha Mosque  on Saturday . His body was  taken from the al Shami  hospital in  Damascus and  buried  in Dahdah cemetery in Baghdad Street.  Condolence  will be received at  Dar es Saadah  lounge  in Mezzeh near  Tala Tower, according to the announcement .