Ex-Yemen president calls for political dialogue to end war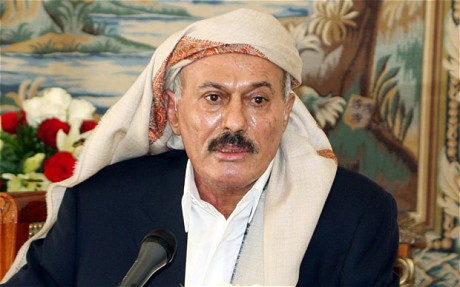 Yemen's former president Ali Abdullah Saleh called on Friday on all Yemenis to return to a political dialogue to end to the country's conflict.
Talks between Yemenis and Saudi Arabia, which has led a nearly month-long bombing campaign against the Iran-allied Houthi movement, must take place under the moderation of the United Nations in Geneva, he said.
The Saudi-led coalition announced on Tuesday an end to its bombing campaign in Yemenbut a Saudi spokesman said forces would continue to target the Houthis as necessary.
"I call on all conflicting parties in all provinces to stop fighting and return to dialogue in all provinces," Saleh said in an emailed statement.
U.S. Secretary of State John Kerry said the Houthis needed to stop fighting, which could lead to the end of Saudi air strikes and the opening of a political dialogue.
"This has to be a two-way street," Kerry told a news conference in Iqaluit, Canada, where he attended an Arctic meeting.
"We need the Houthi, and we need those who can influence them, to make sure that they're prepared to try to move as they said they are to the negotiating table," he added.
Saleh said he is ready to reconcile with all parties that have opposed him since 2011. "I will reconcile with all (parties) for the interest of the nation."
He further called on all militants, al-Qaeda and armed supporters of President Abd-Rabbu Mansour Hadi to withdraw from Aden and hand over power to the army and local authorities.
Forces loyal to Saleh, who stepped down after months of protests in 2011 against his 33-year rule, had been fighting alongside the Houthis against Hadi supporters.
REUTERS