Lebanese-Armenians mark centennial of "Genocide" with mass rally
Holding   flags and banners , tens of thousands  of  Lebanese-Armenians marched north of Beirut Friday to commemorate the centennial of "Genocide"
They marched  from the Armenian Apostolic Patriarchate in Antelias to the Burj Hammoud Stadium.
Speaking before the march, head of the Catholicosate of the Great House of Cilicia Aram I Keshishian said Armenians do not need condolences from Turkey, but "recognition and justice."
"We tell the world that we emerged victorious from the genocide because our people lived," he said.
Prominent members of the Armenian community spoke on the occasion, highlighting the need for all countries of the world to recognize the genocide and pressure Turkey to do the same.
Lebanese Prime Minister Tammam Salam called the head of the Armenian Apostolic church in Lebanon Friday, expressing sympathy with the world's Armenians over the tragedy.
"Lebanese people highly appreciate the positive and significant role the  Lebanese -Armenian  are playing at the national level, which aims to boost national harmony and unity," Salam said, according to a statement released by his office.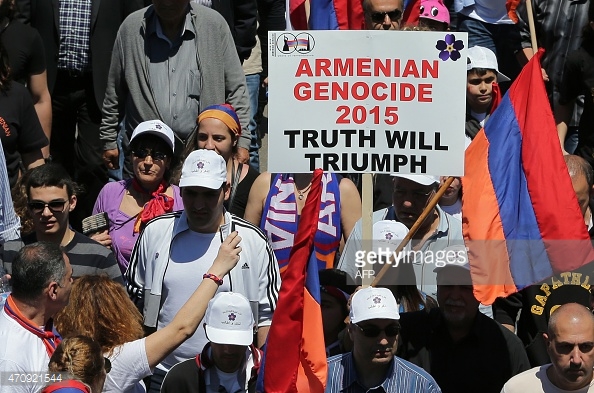 The prime minister added that Lebanon "takes pride in all its components and shares their causes and all the sufferings they have endured throughout history."