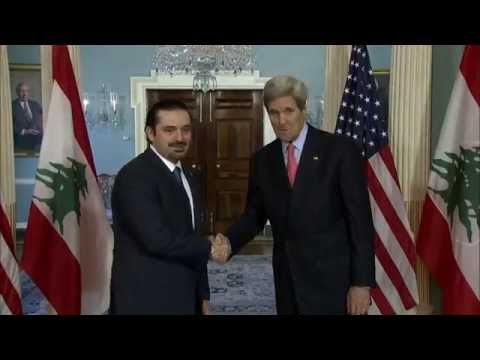 Washington, DC- Former Prime Minister and Future Movement leader MP Saad Hariri called Wednesday after meeting with U.S. Secretary of State John Kerry at the State Department  for the Saudi-led "Decisive Storm" military operation in Yemen to shift to Syria to remove the regime of President Bashar Assad for killing its  own people.
Hariri  also slammed Iran for meddling in the internal affairs in Lebanon and other Arab countries.
"God willing, this [operation Decisive Storm ] will move to Syria to put an end to this regime which has killed the Syrian people," Hariri said
"We only wish goodness to the Syrian people. In 2015, we saw bomb barrels being dropped [by regime forces] on children, women and Syrian cities, killing thousands of people," he said.
Hariri decried the Assad regime's claim of being part of the so-called "Resistance and Deterrence Axis," an anti-Israel coalition that also includes Iran and Hezbollah.
"This regime in Syria should be eliminated because it has killed the Syrian people," he said. "Although it has labeled itself as being part of deterrence, it has not carried out any action against Israel, but rather against its own people in Lebanon or in Syria."
Hariri's comments came   a day after Saudi Arabia announced it would end almost a month of airstrikes against the Iranian-allied Houthi rebels, who overran the capital Sanaa in September and have expanded to other parts of Yemen.
Hariri described operation "Decisive Storm" as "very successful," saying the military campaign has achieved many of its goals. "This firmness should  go on in Yemen, Iraq, Syria or Lebanon," he added.
Hariri's discussions  with Kerry covered the situation in Lebanon and developments in region, particularly the 4-year-old war in Syria, the conflict in Iraq and the war in Yemen, according to a statement released by the former PM's  media office.
The meeting was also attended by Hariri's political aides; former lawmakers Bassem Sabaa and Ghattas Khoury; Nader Hariri, his chief of  staff; and a number of State Department officials.
Hariri is  in Washington  on an official visit that started Tuesday and that would  last for several days during which he  is planning to  meet a number of senior U.S. officials for talks centering on how to shield Lebanon from the repercussions of regional turmoil.
Hariri said his talks with Kerry also touched on maintaining stability in Lebanon and the 11-month-old presidential vacuum.
"Secretary Kerry urged the Lebanese on the need to elect a president. As you know, there is a split in Lebanon over this issue but we must work to elect a president," he said.
Declaring that Lebanon was in the "eye of the hurricane ," Hariri said there were "radical differences" between his Future Movement and Hezbollah over the conflicts in Syria, Iraq and Yemen. He added that the Future-Hezbollah dialogue, which began last December and sponsored by Speaker Nabih Berri, was aimed primarily at distancing Lebanon from the repercussions of regional turmoil.
He blasted Iran's role in the region as destructive .
Despite the dialogue with Hezbollah, Hariri said, "this does not prevent us from saying that Iran's role in Lebanon, Syria, Yemen and Iraq is not constructive. I have previously said that we are not against Iran. But interfering in Arab affairs is rejected."Hariri urged Iran to emulate Saudi Arabia in extending its aid to the Lebanese state rather than to a certain political party, in a clear reference to Hezbollah, which is funded, armed and trained by the Islamic republic.
Hariri  praised Saudi Arabia's $3 billion grant to buy French weapons in order to help bolster the capabilities of the Lebanese Army and security forces in the battle against terrorism.
On the other hand he  and Kerry expressed  concerns over Hezbollah and Iran's role in Lebanon and the region.
"We are very opposed to entities like Hezbollah and others using locations and places in Lebanon and nearby as pawns in this [regional] struggle," Kerry said at a joint news conference before the meeting. "And we call on Iran and the Assad regime and others to respect the integrity of Lebanon, and permit it and its people to be able to find the peace and the stability that they have longed [for] for so long."
Describing Hariri as a man who has "worked for moderation and for thoughtful political compromise," Kerry reiterated the U.S. commitment to Lebanon's stability and security.
Kerry urged  Lebanon's rival factions to end the presidential vacuum.
On Wednesday the Lebanese parliament failed  for the 22nd  time in a row to elect a president to replace Michel Suleiman whose term ended on May 25.
As in the past sessions the parliament was unable to reach a quorum because the Iranian backed Hezbollah militant group and its ally MP Michel Aoun's Change and Reform bloc MPs boycotted the sessions.
"We're anxious to see the presidency ultimately filled and to try to see the effects of Daesh [ISIS] and [the] Nusra [Front] and Syria moved away from Lebanon so that Lebanon can really have its sovereignty respected and its future protected and guaranteed," Kerry e said.
Kerry noted that the U.S. would continue to support the Lebanese Army and moderate forces in Lebanon in an effort "to provide the future that the people of Lebanon deserve."
Hariri expressed his gratitude for American support for the Lebanese Army.
The US has been delivering at various intervals all kinds of arms to the army and Lebanese internal security forces.
"We're facing Daesh; we're facing Nusra; we're facing Al-Qaeda on our borders," Hariri said.
Earlier Wednesday, Hariri updated the Lebanese Caucus which is  headed by Republican U.S. Congressman Darrell Issa and Democratic U.S. Congresswoman Gwen Graham in Washington D.C. on the situation in Lebanon during a meeting at the U.S. Capitol, according to a statement released by his media office.
The meeting  touched on the needs of the Lebanese Army, the situation of Syrian refugees, the presidential impasse and the requirements for a "functional Lebanon," Issa said after the meeting.
During the meeting at the Capitol, Hariri expressed his concern over a "lost generation of refugee children," and its impact on Lebanon's education sector, Issa added.
The U.S. visit is the latest of Hariri's regional and foreign trips aimed at protecting Lebanon from the negative fallout of sectarian violence raging in Syria and Iraq, as well as the war in Yemen.
Foreign Relations Committee
In Washington , Hariri met several members of the Foreign Relations Senators John McCain, and  Mike Pompeo. He also  House Majority leader Kevin McCarthy,