Iran celebrates its Army Day with calls for death to Israel, USA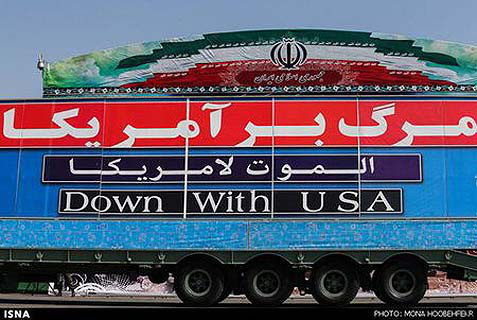 Saturday marked the Army Day In Iran. It featured a display of new weapons and a truck carrying a massive banner reading "Death to Israel."
A televised broadcast of the parade was punctuated by repeated cries of "Death to America" and "Death to Israel." "If Israel makes a mistake," the announcer on Iran television said during the broadcast, as heavy trucks carrying armored personnel carriers rolled past, "those in Tel Aviv and Haifa will not sleep at night, not one person.
President Hassan Rouhani, attended the procession south of the capital Tehran, which showcased the country's military technologies.
Among the weapons systems paraded was a domestically produced version of the Russian S-300 anti-aircraft missile.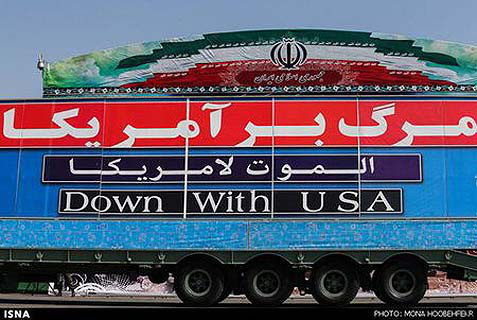 Tehran decided to design its own version of the S-300 missile, the Bavar 373, following a postponement by Russia of the sale of the anti-aircraft weaponry to Iran five years ago. Earlier this week, Russia announced it would finally lift the ban and deliver S-300 systems to Iran, in a move that would give the Islamic Republic's military a strong deterrent against any air attack.
On Wednesday, Iranian Ground Force Commander Brigadier General Ahmad Reza Pourdastan stated that the Bavar 373 air missile shield possesses similar features to the Russian S-300, Fars reported. The Iranian news outlet said that the Iranian missile system has "increased mobility, agility and reduced launch-preparation time" than its Russian counterpart.
Israel protested the planned Russian supply .Israel fears the S-300s would complicate any military intervention as a last resort to thwart Iran's nuclear drive. It also fears Iran could supply the missile defense systems to Syria or Hezbollah.
Israel warned Russia that it will arm the Ukrainians if Russia supplies the S300 to Ukraine
Putin warns Israel
Russian President Vladimir Putin warned Israel against supplying weapons to the Ukrainian government, which is battling a Russian- backed insurgency in its eastern province.
"This is a choice, a choice of the Israeli leadership; they have the right to do what they consider appropriate. I think it is counterproductive, if it concerns lethal weapons, because it will only lead to yet another swirl of confrontation, to more human casualties, but the result will be the same," Putin said in an interview on Rossiya 1 TV on Saturday.