Future Movement, Hezbollah held 10th dialogue session but verbal war continues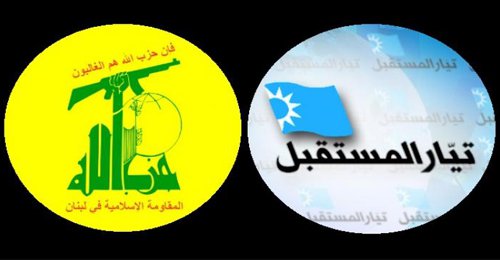 The Future Movement and Hezbollah held their tenth dialogue session on Tuesday and discussed "the continuation of the security measures" in all regions, but at the same time the verbal attacks continued between the two parties over the Saudi-led operation in Yemen.
A day after Saudi Arabia launched operation Firmness Storm on March 28, Hezbollah chief Sayyed Hassan Nasrallah appeared in a televised address and slammed the campaign as a "Saudi-American aggression." He also promised Riyadh that it will suffer a "major defeat."
Future Movement leader ad former PM Saad Hariri hit back at Nasarllah , denouncing his speech as a "storm of hatred."
Interior Minister Nouhad al-Mashnouq, who is one of Future Movement's representatives in the dialogue talks , launched an attack against Iran's supreme leader Ayatollah Ali Khamenei shortly after the dialogue session ended today.
"Those whose noses will be rubbed against the ground are the ones who have excelled in the culture of elimination and aggression," said Mashnouq.
This comes after Khamenei last Thursday accused Riyadh of "genocide" in Yemen, saying "the Saudis' noses will surely be rubbed against the ground."
Rejecting any "insult" against Saudi Arabia, Mashnouq noted that Riyadh has always stood by Lebanon and the Arab countries.
"The Iranian 'illusion storm' will not win as long as there is a pulse in the Saudi heart," the minister stressed.
As in previous sessions, representing Hezbollah in the talks were MP Hassan Fadlallah, Industry Minister Hussein Hajj Hasan and Hussein Khalil, a political aide to Hezbollah leader Sayyed Hassan Nasrallah.
Attending on behalf of the Future Movement were Mashnouk, MP Samir Jisr and Nader Hariri, the chief of former Prime Minister Saad Hariri's office.
"Todays conferees tackled the continuation of the security measures in all regions in order to immunize the domestic situation, in addition to other issues that are of concern to the Lebanese," the two parties said in a joint statement after the talks that took place at Speaker Nabih Berri's residence in Ain al-Tineh.
The Future Movement and Hezbollah also discussed "some issues related to the refugee crisis," the statement said.
Dialogue between the two rivals had kicked off on December 21 and was recently facing the threat of collapse due to a war of words over the Yemeni conflict.
Berri told his visitors Tuesday evening that Saudi Ambassador to Lebanon Ali Awad Asiri, who visited him the same day, had expressed his country's support for the Hezbollah-Future dialogue. Asiri held talks with Prime Minister Tammam Salam as well.
Berri revealed that he had tasked Minister Khalil with urging Hezbollah and the Future Movement to refrain from escalatory stances.