Venezuela's Maduro claims victory against Obama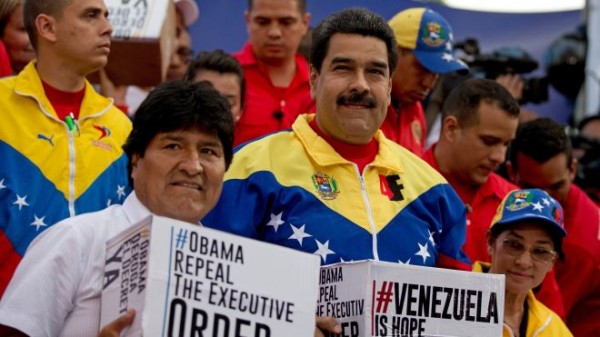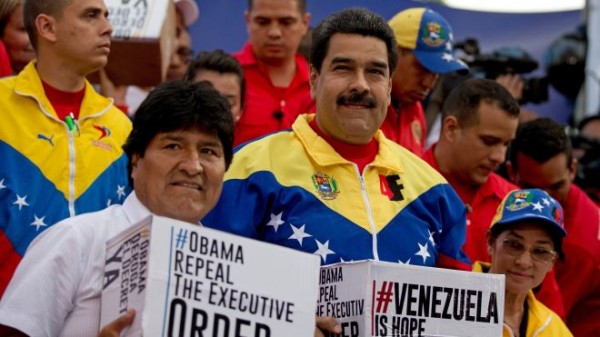 Venezuela's president, Nicolás Maduro, is claiming "victory" after President Obama said in an interview earlier this week that "Venezuela is not a threat."
Maduro is attributing Obama's supposed change of stance to his initiative of gathering 10 million signatures protesting "U.S. imperialism."
"Venezuela is not a threat to the U.S. and the U.S. is not a threat to Venezuela," Obama told EFE, apparently changing the language used in the March 9 executive order announcing sanctions against seven government officials and calling the situation in Venezuela "an unusual threat."
"This rectification of vocabulary means a lot and it was possible thanks to the help we received from other Latin American governments and the entire world," Maduro said Thursday to a crowd gathered in front of the Miraflores Presidential Palace.
He said that Obama's change of language could open a "new era" of relations between the U.S. and Venezuela.
A matter of wording
Asked whether the U.S. was walking back from its previous depiction of Venezuela as a national security threat, a State Department spokesman, Justen Thomas, referred to remarks by a deputy national security advisor,  Ben Rhodes, at a press briefing this week in which he said: "The wording [of the executive order], which got a lot of attention, is completely pro forma. This is a language that we use in executive orders around the world. So the United States does not believe that Venezuela poses some threat to our national security.  We, frankly, just have a framework for how we formalize these executive orders."
Millions of  signatures
By his side was Bolivia's President Evo Morales, a willing signer of the petition that will be delivered this weekend to President Obama at the Summit of the Americas taking place in Panama City.
Maduro announced that the 10 million mark had been exceeded: he said more than 10.4 million signatures were gathered in the country, while an additional 3 million plus had been handed to him from abroad.
"We have gathered the total of 13.4 million signatures in Venezuela and many other countries," he said visibly pleased.
However, more than 3 million of those signatures came from Cuba, meaning only 567 signatures came from other countries.
Maduro said many of the booths where signatures were collected will be kept across the country as "a historic reminder of this fight against U.S. imperialism."
According to Tibisay Lucena, president of the National Electoral Council, all the Venezuelan signatures were checked by her office and they had been able to validate 98.7 percent of them.
She said the Council completed the task in a little over two days, which amounts to approximately 216,000 signatures verified per hour, more than 3.600 per minute and 60 per second.
Most of the signatures were handwritten, as opposed to digital.
Wasting time
President Maduro also referred to his meeting with State Department counselor Thomas Shannon Wednesday night.
"We talked from 8 p.m. to 11 p.m. Rivals must talk to create the possibilities of dialogue," he said, adding that the talks dealt with "the existence of a network of terrorists" in Miami, Florida, that has tried to overthrow his government.
As it often is the case, many of the participants in Thursday's rally were public employees that were picked up from work by state-owned buses. Some came from different cities of Venezuela using free government rides.
Some critics of the government said they are getting tired of the overused rhetoric. Fanny Molina, who lives in Macarao, a low-income segment of Caracas, believes the president is wasting valuable time.
"He should be paying attention to all the long lines there are around the country to buy food and other basic goods. Every day you find fewer things in the supermarkets and he is wasting time looking for signatures. The U.S. is not going to invade Venezuela, they would have done it already if they wanted to," she said.