PLO won't join Syrian Govt troops in embattled Yarmouk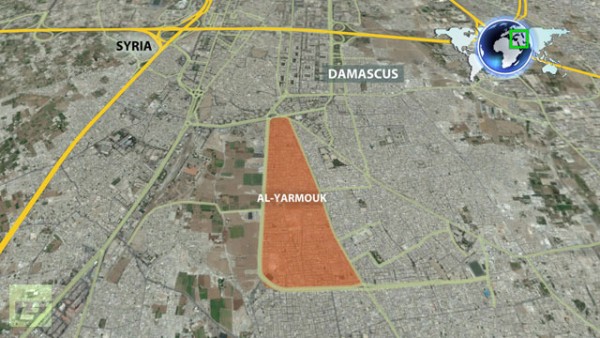 The Palestine Liberation Organization said it will not be drawn into military action in an embattled Palestinian refugee camp in Syria, rejecting claims that Palestinians would join Syrian troops in driving out Islamic State militants.
The PLO statement, issued late Thursday, contradicted comments earlier by the PLO envoy to Damascus, Ahmad Majdalani, that Palestinian groups are ready to join forces with the Syrian government to expel IS fighters from the Yarmouk camp in the Syrian capital.
Palestinian President Mahmoud Abbas has long insisted that Palestinians stay out of the Syrian conflict. It was not immediately clear why Majdalani, sent by Abbas to Damascus to deal with the crisis, came out in support of Palestinian military involvement in Syria.
The contradictory comments exposed internal Palestinian disagreements on how to handle the growing crisis in Yarmouk, where thousands of civilians are trapped under appalling conditions.
Wasel Abu Yousef, a senior PLO official based in the West Bank town of Ramallah, said Friday that negotiating safe passage for Yarmouk's besieged residents and for humanitarian supplies is preferable to military action.
"We know that if the (Syrian) army, with its planes and tanks, would interfere, this would mean the complete destruction of the camp," he said.
A Damascus-based Palestinian official, Khaled Abdul-Majid, said the back and forth was not helping Yarmouk. He said the PLO was backing away from earlier statements "as a result of pressure from external sides." He did not elaborate, but said Damascus-based Palestinian factions will stick to the agreement reached on joining Syrian troops in driving IS militants out.
Islamic State fighters overran much of Yarmouk last week, establishing a foothold in the Syrian capital for the first time. The incursion is the latest trial for Yarmouk's estimated 18,000 remaining residents, who have already suffered through a devastating two-year government siege, starvation and disease.
Residents say there is barely enough food and water, and hospitals have long run out of drugs and supplies.
A U.N. official, Chris Gunness, said he was concerned the violence was intensifying and said all diplomatic, economic and religious levers must be used to influence the parties on the ground.
"Yarmouk is at the lower reaches of hell. It must not be allowed to descend further," he added.
Reporters visiting Yarmouk on a government-escorted tour Thursday saw the empty shells of buildings at the camp's northern entrance. In its dusty and deserted streets, a few sheep foraged in the rubble.
Yarmouk was established in 1957 as a refuge for Palestinians forced from their homes during the 1948 war that attended the creation of Israel. In subsequent decades it grew into a built-up residential area housing tens of thousands of Palestinians and Syrians.
Radwan Qassem, a former resident of the camp who fled in December 2012 along with most of the camp's 160,000 Palestinian and Syrian inhabitants, said he was all for a military solution that would allow its people to return.
His brother was killed by gunmen in the camp about a year ago. He now lives in a Damascus suburb with his wife, two daughters and son, anxious to return to their home.
"I am with expelling Daesh in any way. Enough, we're so tired," he said, using an Arabic acronym for the IS group.
A Syrian government official has said driving IS out of Yarmouk by force is a top priority and the only option. Majdalani said Thursday after meeting with Syrian officials that a military campaign by Syrian troops and Palestinian factions "will start soon."
However, the PLO later said "we refuse to be drawn into any armed campaign, whatever its nature or cover."
"We call for resorting to other means to spare the blood of our people and prevent more destruction and displacement for the Palestinians" in Yarmouk, the statement said.
U.N. Secretary-General Ban Ki-moon said the mayhem has turned Yarmouk into "the deepest circle of hell."
"A refugee camp is beginning to resemble a death camp," Ban told reporters at the U.N., adding that the residents, including 3,500 children, are being used as human shields by armed elements inside Yarmouk and government forces outside it.
Also Friday, activists said Syrian government airstrikes on the northern city of Raqqa, which is the Islamic State group's de-facto capital, have killed at least four people.
The Raqqa Media Center, which operates in areas under IS control, said the airstrikes on residential areas killed four and wounded 15, while the Local Coordination Committees said four were killed and an unspecified number were wounded.
Associated Press