Lebanon may resort to sea transportation after Syria Border crisis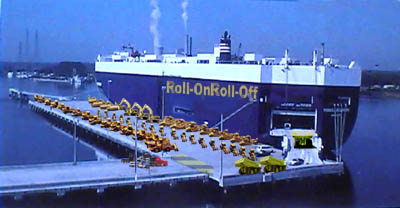 The Lebanese authorities are seriously thinking  about transporting  goods by sea after overland exports to Gulf states stopped last week following a rebel seizure of the Syrian side of the border with Jordan.
At least 30 drivers were stranded on the Syrian-Jordanian border's free zone area last Wednesday after they entered the crossing, as a group of rebels, backed by al-Nusra Front, seized control of it following clashes with government forces.
The move prompted Amman to close the Nasib crossing, which is the only functioning crossing between Jordan and Syria and is considered a crucial gateway for Syria's government and for Syrian, Lebanese and Jordanian traders and merchants.
Many of the drivers returned to Lebanon but others remain stranded there.
During a session held under Prime Minister Tammam Salam on Wednesday, the cabinet charged  Agriculture Minister Akram Shehayyeb with preparing a report on ways to solve the crisis.
Shehayyeb told al-Mustaqbal daily published Thursday that the government approved in principle to cover the difference in the cost that would result from transportation by sea.
The newspaper also quoted Industry Minister Hussein al-Hajj Hassan as saying that such a move would cost the government 1-2 million dollars monthly.
The issue will be discussed again during a cabinet session next week after a thorough study to take the appropriate decision, he said.
Al-Joumhouria daily also quoted a cabinet minister as saying that a  Roll on Roll Off  type barge     could be used to transport the trucks  via two lines – from Beirut Port to Jordan's Aqaba Port or from Beirut to Alexandria, Suez Canal and the Saudi Yanbu Commercial Port.
There are endless stories about the suffering of Lebanese truckers who use Syria to ship mainly  agricultural products to the Arabian Gulf countries , such as Saudi Arabia, Qatar, Kuwait, Oman and UAE . They are endless  stories  about bribes, ransom, corruption, looting and humiliation by the Syrians.
The Syrian regime always used  for decades the border  crossings to blackmail the Lebanese truckers and now of course the Nusra is doing the same , even though the circumstances may be different specially because Jordan this time closed its border.
The Mediterranean sea  is by far the most reliable means for shipping to any place in the world , even to Syria .
The one to $2 million monthly is nothing for a start, because within a very short period this amount will disappear because shipping cost is heavily influenced by volume and as the volume of shipping increases the difference between trucking via Syria and the sea will disappear and vey soon will be a shipping  by sea will be a lot cheaper, according to shipping experts.
In the future trucks will be replaced by shipping containers . These are the most reliable for long distance shipping , according to experts