US official warns that Houthi rebels cannot take over Yemen by force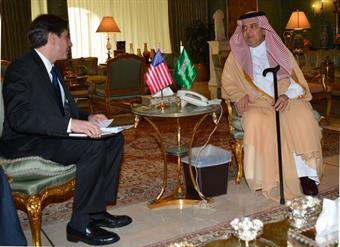 US Deputy Secretary of State Antony Blinken, who arrived in Riyadh , Saudi Arabia from Beirut, Lebanon on Tuesday , warned after meetings with senior government officials that Houthi rebels cannot take over Yemen by force.
Blinken was addressing a press conference at the US Embassy on Tuesday in the presence of Ambassador Joseph W. Westphal.
Blinken held talks with Foreign Minister Prince Saud Al-Faisal, Deputy Crown Prince Mohammed bin Naif, Defense Minister Prince Mohammed bin Salman, Yemeni President Abed Rabbo Mansour Hadi and GCC Secretary-General Abdul Latif Al-Zayani.
He said Washington has stepped up intelligence sharing with coalition forces and started supplying more weapons to fight against the rebels. He indicated that the Kingdom was sending a "strong message to the Houthis and their allies that they cannot overrun Yemen by force."
He also said that the US has set up a coordinating cell at the 'Decisive Storm 'command center in Riyadh.
In response to a question, he said the first priority of Operation Decisive Storm is to avoid civilian casualties. He stressed that the Saudi-led coalition forces are determined to wipe out terror and set up legitimate rule following GCC guidelines.
Speaking about nuclear activities in Iran, he said neither the US nor Saudi Arabia is safe until Iran ceases its nuclear activity.
He pointed out that the US will not allow any actions to destabilize the region.
He said that the operation was launched collectively and coalition members would continue to cooperate in the coming years.
Arab News