Hezbollah-linked man found shot dead in a trunk of a car in Lebanon camp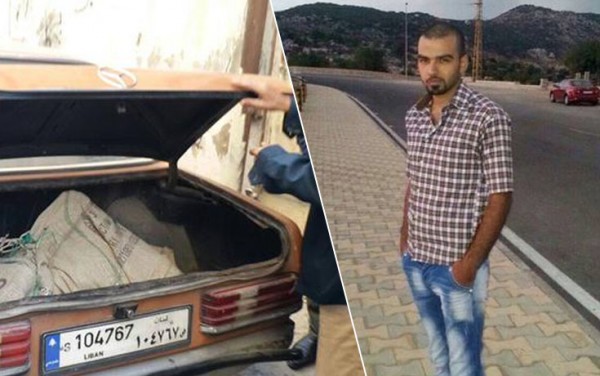 Hezbollah announced on Sunday the death of Marwan Issa , who was found shot dead in the trunk of a car in the Ain al-Helweh Palestinian refugee camp near Sidon in south Lebanon , according to al Mustqbal newspaper .
Issa ( pictured R) , a man in his  twenties,  who was a member of the Saraya al Moqawama el Lebnaneya, (The Lebanese Resistance Brigades) was discovered dead inside a  Mercedes car  in a parking lot on Fawqani Street. His body was packed  inside a large,  bag.
Saraya al Moqawama el Lebnaneya, (The Lebanese Resistance Brigades) was created by Hezbollah around 1997 to broaden  its appeal to other Lebanese religious groups and mainly the Sunnis . Its members are non-Shiites. The Brigades are completely trained and funded by Hezbollah,
Hezbollah first reported him missing inside Ain al-Helweh after entering the camp Saturday, a Palestinian security source said.
Palestinian security forces drove the car with the body still in the trunk to a nearby hospital to deliver it to Lebanese authorities. Lebanese security forces are forbidden from entering Palestinian camps in Lebanon, and protocol requires that a body be examined in the same position as it was discovered.
Issa, who hails from the southern village of Aitroun, was a Sidon resident. He was rumored to be visiting arms dealers inside the camp before he went missing.
The man was last seen alive on surveillance cameras inside the camp on Saturday.
Two arms dealers who were suspected of killing Issa were handed over to the Army by the Palestinian security force in the camp.
The two Palestinian suspects, who were identified as Khaled Kaawash and Ibrahim Serhal, are said to be the last people who saw Issa before his murder.
Sources were speculating that Issa may have been kidnapped and killed due to his affiliation with Hezbollah.
Issa was reportedly shot in the head while seated inside a parked car.
Over the past two years, similar incidents have taken place, in which three individuals who were linked to Hezbollah went missing before being found dead in the camp, the media reported