Blinken in Beirut to discuss Iran deal and ways to combat terrorism,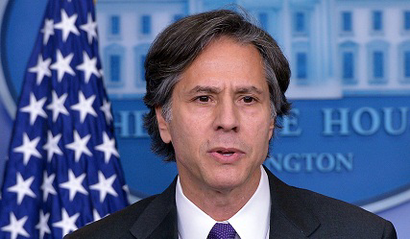 The U.S. Deputy Secretary of State, Antony Blinken is in Beirut to meet with senior government officials as well as civil society representatives working on humanitarian and education issues in Lebanon.
Blinken met with Speaker Nabih Berri and Foreign Minister Gebran Bassil, with whom he discussed the issues of terrorism, foreign fighters and ways to combat terror.
Discussions also focused on the Iranian nuclear file and the repercussions of the deal signed last week between world powers and Iran.
On Sunday Blinken held talks with Progressive Socialist Party leader MP Walid Jumblatt in the presence of US envoy.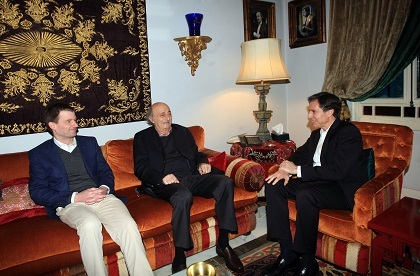 The Jumblatt meeting was attended by several ministers representing the PSP in Prime Minister Tammam Salam's cabinet, lawmakers from Jumblatt's parliamentary bloc and former MP Ghattas Khoury, who is a former Future Movement MP and a senior advisor of former PM Saad Hariri.
Jumblatt later hosted a dinner banquet in Blinken's honor.
The meeting between the visiting U.S. official and the Lebanese politicians was an occasion to discuss several international issues, including the nuclear deal, Hamadeh told Voice of Lebanon radio (100.5).
The talks also focused on the situation in Lebanon amid the vacuum at the Baabda Palace.
Lebanon has been without a head of state since President Michel Suleiman's six-year term ended in May last year.
Blinken told MTV that the U.S. will continue to support Lebanon and the Lebanese to enable the country to confront the burden of Syrian refugees.
He hoped that the agreement on Iran's nukes would stop the Islamic Republic from backing terrorist organizations.
Blinken is scheduled to meet with Salam and other top officials.
Media reports said last week that he will also meet with Maronite Patriarch Beshara al-Rai, Grand Mufti Sheikh Abdul Latif Daryan, Army Commander General Jean Kahwaji and Central Bank Governor Riad Salameh.
According to the US state department Blinken will travel April 7 to Riyadh, where he will meet with senior Saudi officials.
On April 8, he will then travel to Abu Dhabi and meet with senior UAE government officials to discuss a wide range of bilateral, regional, and global issues, including the ongoing work as part of the Global Coalition to Counter ISIL.
In Muscat, April 9, Blinken will meet senior Omani officials to discuss a broad range of bilateral, regional, and global issues.
Blinken's final stop will be in Tunis on April 10 to meet with senior Tunisian Government officials and civil society representatives. His visit is reportedly intended to show US support for Tunisia's democracy in the face of the recent Bardo Museum attack."
Blinken replaced former U.S. Deputy Secretary of State William Joseph Burns, who retired last November .