Syria credits Iran's efforts for finalizing the nuclear deal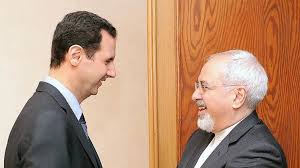 Syria said on Friday the framework deal Tehran has struck with world powers on its nuclear program was the result of efforts by Iran to ease geopolitical tensions.
"Syria welcomes the statement issued on the discussions," state television quoted a foreign ministry source as saying.
Syria "considers that this framework agreement will be followed by positive steps and will be another contribution by Iran … to ease tensions in the region and the world."
The agreement on curbing Iran's nuclear program for at least a decade clears the way for talks on a future comprehensive settlement.
The Syrian war has been a major issue dividing Iran and the United States. Iran has supported Damascus politically, economically and militarily throughout the four-year conflict which has displaced millions and left 220,000 dead. Washington has called for Syrian President Bashar al-Assad to step aside.
The source said Syria appreciated Iranian efforts in the negotiations and that Tehran defended its "right to use nuclear energy for peaceful purposes."
Reuters