No Iran nuke deal yet, talks extended for another day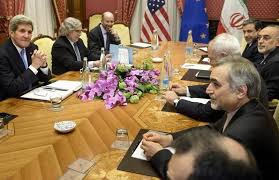 Nuclear talks between world powers and Iran will continue Thursday, after being extended twice past Tuesday's deadline.
"We continue to make progress but have not reached a political understanding," Marie Harf, spokeswoman for the U.S. State Department, said late Wednesday.
When the talks were extended Tuesday, Harf said there are still "several difficult issues" to bridge.
The talks between Iran and six powers — the United States, Britain, France, Russia, China and Germany — are focused on preventing Iran from obtaining nuclear weapons and easing sanctions that have crippled that country's economy. Iran insists its nuclear program is for peaceful purposes but the west does not trust Iran and wants to have a verifiable deal.
Officials say the intention is to produce a joint statement outlining general political commitments to resolving concerns about Iran's nuclear program in exchange for sanctions relief. In addition, they are trying to fashion other documents that would lay out in more detail the steps they must take by June 30 to meet those goals, the Associated Press reported.
China on Wednesday called for the parties to meet halfway. A statement from Chinese delegates said: "It is important to give political guidance to the negotiations … it is important to narrow down the differences. If the negotiations are stuck, all previous efforts will be wasted. All parties must be prepared to meet each other halfway to reach an agreement."
British Foreign Secretary Philip Hammond told the BBC: "I think we have a broad framework of understanding, but there are still some key issues that have to be worked through. Some of them are quite detailed and technical so there is still quite a lot of work to do but we are on it now and we'll keep going at it. Fingers crossed, we hope to get there during the day."
The foreign ministers of China, France and Russia left Lausanne overnight, but the significance of their absence is unclear. Russia's Foreign Minister Sergei Lavrov said Tuesday that the discussions had reached a general agreement on "all key aspects," Russia's TASS news agency reported.
Israeli Prime Minister Benjamin Netanyahu on Wednesday said the international community must insist on a "better deal."
In a televised statement, he said: "A better deal would significantly roll back Iran's nuclear infrastructure. A better deal would link the eventual lifting of the restrictions on Iran's nuclear program to a change in Iran's behavior."
The U.S. Congress, which is in recess until April 13, had threatened to vote on new sanctions against Iran if the outline of an agreement was not reached by the end of March. A final agreement is due by June 30.
USA Today