Kuwait conference pledged $3.8B in Syria aid far short of what is needed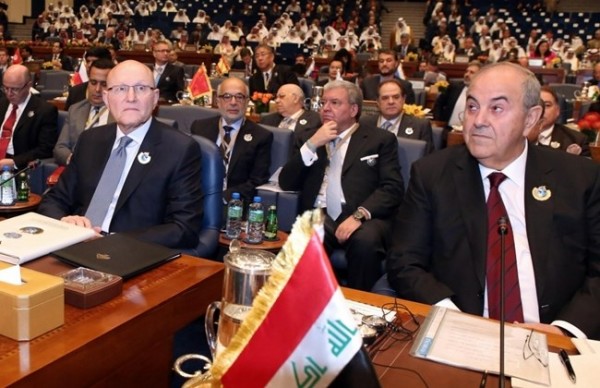 International donors at a conference in Kuwait pledged $3.8 billion Tuesday to help Syrians affected by the civil war, as U.N. officials warned of a fresh wave of mass displacement after Islamic groups took over a major city in northwestern Syria.
The total aid pledge amounted to less than half of what the U.N. requested this year to cope with the growing humanitarian crisis in Syria.
Some 30,000 people fled Idlib in the past week alone, joining some 12 million Syrians who now need humanitarian assistance, including nearly 4 million refugees in neighboring countries who face a daily struggle for survival.
Officials say Syria's war has triggered the largest displacement crisis in the world. Aid agencies say the money pledged Tuesday was not nearly enough to help keep pace.
"What does the international community expect millions of Syrians to survive on?" asked Andy Baker, who leads Oxfam's response to the Syria crisis. "The collective response risks leaving the nearly 4 million refugees and those trapped in Syria to their fate while neighboring countries face unbearable strain."
Valerie Amos, the U.N.'s humanitarian chief, appeared satisfied with the money raised.
"While we cannot bring peace, this funding will help humanitarian organizations deliver life-saving food, water, shelter, health services and other relief to millions of people in urgent need."
More than a quarter of the total came from two countries: Kuwait, which hosted the third annual conference and pledged half a billion dollars, and the United States, which promised the largest single commitment of $507 million.
The European Commission and EU member states pledged close to $1.2 billion total, double the overall EU pledge last year.
The U.N. had requested $8.4 billion this year to cope with the crisis in Syria, although no specific target had been set for the Kuwait conference.
Syria's civil war, now in its fifth year, has killed some 220,000 people, with no end in sight.
As world representatives announced their pledges during the conference in Kuwait's opulent Bayan Palace, Syrian government forces fired surface-to-surface missiles and unleashed a wave of airstrikes on Idlib, killing more than a dozen people, opposition activists said.
The city was captured by Islamic fighters led by al-Qaida's branch in Syria and the ultra-conservative Ahrar al-Sham group on Saturday after four days of intense shelling and fighting.
Yacoub El Hillo, the U.N. humanitarian coordinator in Syria, said the fighting has displaced some 30,000 people.
"I am gravely concerned by the ongoing fighting taking place in Idlib governorate and its possible impact on hundreds of thousands of civilians," he said.
El Hillo added the situation in the city is becoming increasingly dire, with electricity shortages and schools and hospitals closing.
His comments came as activists and residents who fled the city said fighters searched for government supporters.
Further south, fighters of the Islamic State group killed over 40 people Tuesday, mostly civilians, in an attack on a central Syrian village, opposition activists and Syrian state television reported.
The assault on the government-held village of Mabuja was the latest atrocity by the Sunni extremist group, which last week released a video showing its militants behead eight men said to be Shiite Muslims from Syria's central Hama province.
Syria, long one of the most stable countries in the region, was swept up in Arab Spring protests in 2011 calling for greater freedoms and more political rights. Protests quickly spiraled into armed conflict as President Bashar Assad's forces cracked down. The conflict has escalated into a proxy war between the Arab Gulf monarchies backing some rebel groups and Iran, which backs Assad.
U.N. Secretary-General Ban Ki-moon offered stinging remarks, saying Syrians are the victims of the "worst humanitarian crisis of our time," and that he has "only shame and deep anger and frustration at the international community's impotence to stop the war." He also expressed his "deep anger against Syrian leaders who have been abandoning their own people."
Ban's deputy spokesman said later that it was "extremely impressive that we got as much as $3.8 billion," adding that there had been no target for the Kuwait meeting.
"We do need, ultimately, to go beyond the pledges we received today. We also have to make sure these pledges are converted into actual cash," Farhan Haq said in New York.
The U.N. says $2.9 billion is needed in 2015 for Syrians inside the country and $5.5 billion for those who have fled to surrounding countries.
U.S. Ambassador to the U.N. Samantha Power said that despite the U.N. making its largest humanitarian appeal in history, "many countries are giving the same amount, or even less than they have in the past." Tuesday's roughly half-billion-dollar U.S. pledge is in addition to nearly $3.2 billion the country has provided since the conflict began, she said.
"Years from now, when Syrians and the world look back on the country's horrific crisis, they will remember which countries stepped up to help people in dire need, and which countries did little or nothing at all," she told the conference.
Some 78 countries and 40 international aid organizations attended this year's conference.
Last year's donors' conference saw about $2.4 billion pledged though the U.N. had called for $6.5 billion. In 2013, some $1.5 billion was pledged, less than half the U.N.'s appeal for $4.4 billion.
The U.N. humanitarian office's Financial Tracking Service said in November that nearly a quarter of last year's pledges, or $585 million, had not been fulfilled.
In his speech Tuesday, Ban said that most of last year's pledges have since come through, totaling 90 percent of total promises made.
Lebanon seeking 2.1 billion
Prime Minister Tammam Salam asked donors on Tuesday for humanitarian assistance to help the Lebanese authorities implement a plan to overcome the Syrian refugee crisis.
Lebanese Minister of Social Affairs Rashid Derbas said earlier that Beirut will seek $2.1 billion in international aid to cover the expenses for Syrian refugees in Lebanon.
"Lebanon will ask the conference for $2.1 billion to address the refugees' needs over the course of two years, provided that the financial aid comes directly to Lebanon and not to the UN High Commissioner for Refugees (UNHCR) or other UN organizations," Derbas told Arabic-language daily al-Liwaa .
More than 1.5 million Syrian refugees are currently taking shelter in Lebanon. The influx of Syrian refugees is exerting huge pressure on Lebanon's poor infrastructure, education and health systems, Salam told the conference .
Associated Press/ My Way/YL