Iran's sanctions surprise: 35 million barrels of oil that could flood the market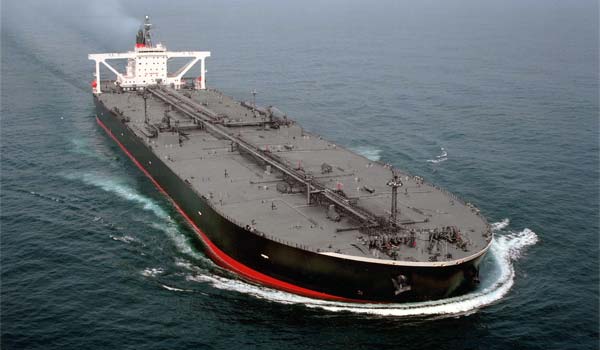 Lifting oil sanctions on Iran will likely hit global markets long before the nation starts pumping more crude.
That's because the member of the Organization of the Petroleum Exporting Countries cartel has been stockpiling oil onshore and in supertankers in the Persian Gulf, according to data compiled by Bloomberg. While estimates of the hoard by ship brokers and government officials vary from as little as 7 million barrels to as much as 35 million, Barclays Plc and Societe Generale SA predict this crude would be the first to be sold abroad if there's an agreement on Iran's nuclear program.
The U.S. and five other world powers are scheduled to resume talks with Iran this week, offering relief from sanctions on oil exports, shipping and financial transactions if the Islamic Republic curtails its nuclear program and allows inspections to verify compliance. If a deal is reached, the Gulf nation could add its stockpiles into an oversupplied oil market where prices have fallen more than 50 percent since June.
"The first wave to look out for when these sanctions are removed is that stored oil coming back into the market," Miswin Mahesh, an analyst at Barclays in London, said by email. "Their ability to sell from storage will depend on whether shipping and insurance restrictions are also lifted."
It would take three to six months after an end-of-June deadline on a final agreement for the Iranian oil to reach the market, according to U.S. government officials who asked not to be identified. The discussions this week are aimed at agreeing on a framework for the accord by the end of this month.
Iran has stored excess crude on tankers for the past 2½ years as tougher restrictions on its oil sales deterred buyers, according to the International Energy Agency. The country exports about 1 million to 1.1 million barrels of crude per day, down from 2.5 million before the U.S. and European Union added oil sanctions in mid-2012, agency data show.
"They'll probably start putting the oil onto the market immediately, once sanctions are lifted," said Robin Mills, an analyst at Dubai-based Manaar Energy Consulting who worked with Royal Dutch Shell Plc in Iran. "They're desperate for cash."
Thirteen supertankers operated by the National Iranian Tanker Corp. were anchored off Bandar Abbas, Assaluyeh or Kharg Island in Iran from March 15-18, according to data compiled by Bloomberg. The depth of their hulls in the water suggests the ships, which have spent from three weeks to nine months at their current positions, are laden with crude. Each vessel is able able to carry an average of 2.1 million barrels, the data show.
Four calls placed to National Iranian Oil Co. in Tehran by Bloomberg this week seeking comment went unanswered. Many offices are closed for the Iranian New Year.
The amount of stored Iranian crude may be less than half the level indicated by the data compiled by Bloomberg, according to the U.S. officials. Iran has between 7 million and 17 million barrels at sea and on land, said the officials. They cited estimates based on satellite photographs and other evidence.
EA Gibson Shipbrokers Ltd. in London, which has been monitoring Iranian oil storage since 2009, estimates the country has 34.5 million barrels aboard tankers in the Persian Gulf.
Reviving Iran's oil fields and restoring the country's output by 800,000 barrels a day to its full capacity of 3.6 million could be achieved within three months of the sanctions' ending, according to the Paris-based International Energy Agency, an adviser to 29 nations on energy policy.
Iran's Oil Minister Bijan Namdar Zanganeh said March 16 that the nation could increase exports by 1 million barrels a day within a few months of sanctions being removed.
Other analysts are less optimistic, with Citigroup Inc. estimating an increase of that size would take between six months and a year. A sustained expansion in Iranian production won't become a factor for the market until late 2015 or early 2016, said Mike Wittner, head of oil market research at Societe Generale in New York.
"Once the oil and banking sanctions are lifted or suspended and they're allowed to put additional oil in the market, the first oil that's going to be sold is what's in storage," Wittner said.
AOL