Germanwings Flight 9525: Co-pilot Security checks show nothing unusual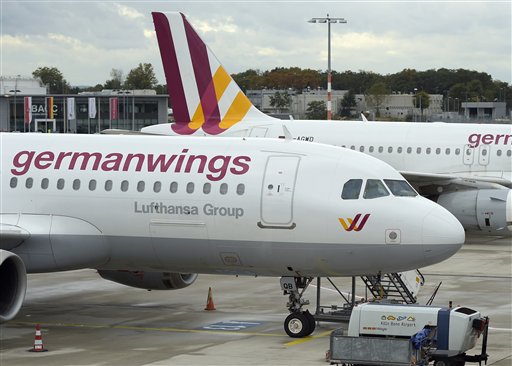 The local government in Duesseldorf says the most recent regular security check on the Germanwings co-pilot, conducted Jan. 27, found nothing unusual.
It says it has also checked with authorities in Bremen, where he went to flight school, and Rhineland-Palatinate state, where his hometown is, and turned up nothing from there. It says previous security checks in 2008 and 2010 also showed no issues.
The local government is responsible for checking personnel at airlines based in the region. It conducts the checks — which look for any criminal record or links to extremists — once every five years, a gap that used to be once every two years.
The Germanwings crash on Tuesday in the French Alps killed 150 people.
2 crew members rule
Europe's third largest budget airline, Norwegian Air Shuttle, says it has ordered new flight regulations that say two crew members must always be present in the cockpit of a flying aircraft.
Norwegian spokeswoman Charlotte Holmbergh-Jacobsson says the new rules will be adopted "as soon as possible" on all commercial flights globally. She says the decision was taken after details emerged that the co-pilot of the Germanwings Flight 9525 that crashed in France on Tuesday had apparently locked himself in the cockpit. The disaster killed 150 people.
Other airlines, including Finnish national carrier Finnair, already stipulate that there must always be two crew members in the cockpit of a flying aircraft.
Incomprehensible dimension

German Chancellor Angela Merkel says news that the co-pilot is believed to have intentionally crashed the plane gives the Germanwings tragedy a "new, simply incomprehensible dimension."
Merkel said that "something like this goes beyond anything we can imagine." She underlined a pledge that German authorities will do "everything imaginable to support the investigations."
FBI offers help

The FBI has offered any help needed to French investigators in the Germanwings crash that killed 150 people.
"We stand ready to fulfill any requests for information," FBI spokesman Paul Bresson said Thursday.
Suicide

The principal of Joseph Koenig High School in Haltern, Germany, which lost 16 students and two teachers in the Germanwings crash, says the state governor called him with news that the cause "was without a doubt suicide."
Ulrich Wessel told reporters: "I gave this information to my colleagues immediately, and they were just as stunned as I was. I told them it is much, much worse than we had thought. It doesn't make the number of dead any worse, but if it had been a technical defect then measures could have been taken so that it would never happen again."
A French prosecutor says the co-pilot deliberately caused the crash which took 150 lives.
Isolated event

Lufthansa's chief executive, Carsten Spohr, reflected on his long experience as he reacted to news that the Germanwings crash that killed 150 had been blamed on the deliberate action of the co-pilot.
Spohr told a news conference that "no system in the world can rule out such an isolated event."
He added: "I have worked at Lufthansa as an engineer, I have worked as a pilot at Lufthansa, I have carried responsibility as a manager at Lufthansa for many, many years. Always, wherever I was, whoever my boss was, the rule was always safety is No. 1. And that this has happened to us — I can only say we are sorry."
The Lufthansa chief says he is "stunned" by a French prosecutor's conclusion that the co-pilot of a Germanwings plane intentionally caused Tuesday's crash which killed 150 people.
Spohr told a news conference in Cologne, Germany that "we choose our staff very, very carefully." He says the airline had no indication of why the co-pilot would have crashed the plane. He said pilots undergo yearly medical examination but that doesn't include psychological tests.
Screaming passengers

Marseille prosecutor Brice Robin says passengers on the doomed Germanwings flight could be heard screaming just before the crash.
He said the co-pilot's responses, initially courteous, became "curt" when the captain began the mid-flight briefing on the planned landing of the Germanwings flight which crashed in France, killing 150 people.
He refused to give details on the pilot's religion or ethnic background. Prosecutor says German authorities were taking charge of the investigation of the co-pilot, whom he identified as Andreas Lubitz.
Robin refused to give details on the pilot's religion, saying: "I don't think it's necessarily what we should be looking for."
Associated Press