U.S., Lebanon discuss efforts to defeat Islamic State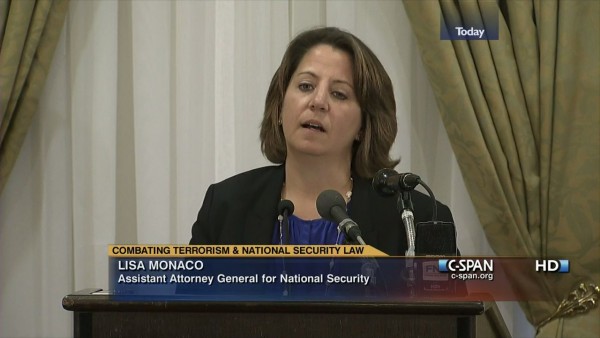 White House counter terrorism adviser Lisa Monaco met with Lebanese Interior Minister Nouhad Mashnouk on Tuesday to discuss security concerns in the region and ongoing efforts to defeat the Islamic State, the White House said in a statement.
Monaco reiterated the need for all Lebanese parties to "implement the policy of dissociation" from the Syrian conflict.
Mashnouk who is currently in Washington on an official visit was told by CIA director John O. Brennan that the U.S. is ready to provide Lebanese security services with equipment and training to help them fight terrorism.
According to a statement released by Mashnouk's office Tuesday, the minister said that his meeting with Brennan was positive.
The U.S. official voiced his country's readiness to provide the Internal Security Forces and General Security with equipment and to offer training to members of security services.
Mashnouk also held talks at the State Department with Anne C. Richard, the Assistant Secretary of State for Population, Refugees and Migration.
Mashnouk and Richard discussed challenges facing Lebanon as a result of the influx of over 1 million Syrian refugees.
Mashnouk detailed measures taken by the government to organize the presence of Syrian refugees and steps taken by the General Security in this regard.
The Interior Minister also highlighted the importance of increasing assistance to host communities in Lebanon through supporting the Crisis Response Plan prepared by Lebanon to meet their needs and those of Syrian refugees.
Lebanon will ask for funds to implement this plan during an international donor conference to be held at the end of the month.
For her part, Richard stressed the importance of the role played by the government and the Interior Ministry in dealing with the refugee crisis.
Mashnouk also discussed security and political developments in Lebanon and the region with Gerald Feierstein, Principal Deputy Assistant Secretary of State for Near Eastern Affairs.
The minister said that through steps taken by its government, Interior Ministry and security services, Lebanon was able to protect itself from fires surrounding it, underscoring the importance of U.S. assistance for Lebanese security agencies.
Mashnouk urged the swift appointment of a new U.S. ambassador to Lebanon to replace David Hale, who was posted to Pakistan, saying such a move would stress the U.S. commitment to Lebanon.
For their part, the U.S. officials expressed their support for Lebanon's sovereignty and independence, Mashnouk said
Reuters/ YL