Several assassination attempts by Hezbollah against Hariri, report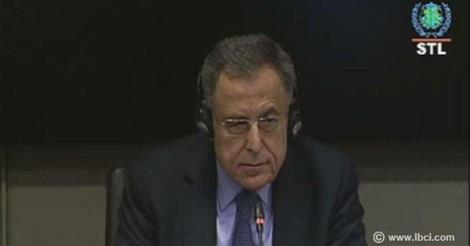 Former Lebanese prime minister and the leader of the Future Movement Parliamentary bloc MP Fouad Siniora told the Special Tribunal for Lebanon during his testimony on Tuesday that that his longtime friend, slain former Premier Rafik Hariri, confided to him that he had discovered several assassination attempts by Hezbollah against him.
"Hariri was driving his car and I was sitting next to him when he suddenly turned towards me and said: 'You know Fouad, by now we have discovered several assassination attempts by Hezbollah against me'," Siniora told the Special Tribunal for Lebanon in his second day of of testifying in the case of the Hariri's assassaination.
Saniora told prosecutors Hariri confided to him of his concerns about his personal security around the end of 2003 or the beginning of 2004.
Five Hezbollah members have been indicted in Hariri's assassination but have not been arrested, because the party's chief refused to hand them over to the Lebanese authorities .. Their trial in absentia began in January 2014 and is ongoing.
"Had the STL not been established, then assassinations would have continued," Siniora told the UN backed court.
The investigations into previous assassinations and crimes had never led to identifying the perpetrators, he said. "So there was a necessity to establish a competent, honest, transparent, neutral and impartial tribunal."
"Some cabinet members at the time exerted efforts to stop the establishment of the STL," he added.
Asked whether he thought ex-President Emile Lahoud was in support of the court, Saniora said: "I don't think he welcomed its establishment."
In his testimony, the MP described Hariri as a "charismatic" leader whose opponents sought to "sabotage" his achievements.


"Hariri was able to attract officials' attention. He was very charismatic," said Siniora, the most senior politician to testify at the STL near The Hague, Netherlands.
Several videotapes were played by the prosecution showing Hariri's meetings with Arab and world leaders in the months that preceded his murder.
Hariri "was capable through his charismatic personality, intelligence and knowledge to draw the attention of dignitaries and leaders," said the former PM.
Siniora confirmed to the court that the former premier's visits abroad upset his opponents.
"Every time he made an achievement during these visits such as building new relations … Hariri used to say God help us when we return to Beirut," said Siniora.
"The Lebanese-Syrian security regime sought to sabotage his achievements abroad," Siniora stressed.
"Some people wanted to push the country forward while others wanted to keep it under their firm grip," he said.
The STL Defense then questioned Siniora on the case of the four Lebanese generals who were arrested in 2005 in connection to the Hariri murder.
He said: "After all legal measures were taken, I, as premier at the time, was contacted to be informed that the four generals would be arrested."
"My role in the arrest was limited to just being informed of the development and this is according to the law," he explained.
Former General Security chief Jamil al-Sayyed, former head of the Internal Security Forces Ali Hajj, former head of Army Intelligence Raymond Azar, and former head of the presidential guard Mustafa Hamdan were detained from 2005 until 2009 for their connection to the Hariri assassination.
They were released over a lack of insufficient evidence.
The Defense is expected to continue its cross-examination of Siniora on Wednesday.
On his first day of testimony on Monday Siniora told the court that President Bashar Assad of Syria threatened Hariri to break Lebanon on his head if he did not agree to extend the presidential term of Emil Lahoud.