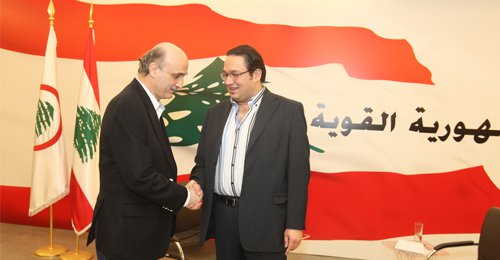 In a Youtube interview with   Saudi Arabian Journalist Ahmad Adnan  published Sunday, Lebanese Forces leader Samir Geagea  accused  Hezbollah  of preventing the establishment of a Lebanese state.
"What is disrupting the formation of a state in Lebanon is the presence of Hezbollah as a state within a state," Geagea told Adnan
Hezbollah's arms and the "method of its presence" contradict with the notion of a legitimate state, he said.
Geagea said his criticism of the party stems from an objection to policies seen as highly linked to foreign alliances that contradicts with a local vision for Lebanon, a possible reference to  Iran and its  Vilayat al Faqih rule which contradicts with the Lebanese culture and system of governing .
"Our relationship with Hezbollah is not based on enmity but opposition," he stressed.
"All the Lebanese possess a particular vision of the state, and this is a state based on the Taif accord , the constitution and the law," he said.
"No disruptive factor can last indefinitely," he stressed  in reference to Hezbollah.
The Lebanese Forces leader  also accused Hezbollah 's backer Iran of  disrupting the  presidential election and of being behind  the ten month-long presidential vacuum.
"Either a president fully supportive of [Iran] was supposed to be  [elected] or no elections would be held, and this is what happened," Geagea  said.
The Lebanese Forces chief also slammed  Iran's expansion in the region, saying that it had adopted the rhetoric of the Palestinian cause as a means to achieve domination in the Middle East.
Geagea said that although several Arab capitals have been taken over by Iran, it has yet to take any measures against Israel.
"The region  cannot accommodate  this Iranian expansion because   it will lead to unpredictable repercussions." He said.
The interview comes after a meeting last Tuesday  with U.N. Special Coordinator for Lebanon Sigrid Kaag who was planning  to visit  Saudi Arabia and Iran with the aim of resolving the presidential stalemate.
Geagea who was the first to announce his presidential candidacy urged Kaag to skip Saudi Arabia and head directly to Tehran since Iran is the only country blocking the presidential election.
Quorum
The Lebanese parliament failed on March 11 and for the 20th time in a row to elect a president to replace Michel Suleiman whose term ended on May 25.
As in the past sessions the parliament was unable to reach a quorum because  Hezbollah  and its ally MP Michel Aoun's Change and Reform bloc MPs boycotted the sessions.
Speaker Nabih Berri who is allied with Hezbollah and Aoun postponed to April 2 , 2015 the session of Lebanon's presidential election after expressing pessimism over ending the crisis in the near term.
Berri , who is closely allied with Iran and Hezbollah earlier told local local newspapers : "Hopes (to elect a president) became a delusion."
 "It's a shame that the number of sessions reached 20," the speaker said last Wednesday.
Iran deal
Berri said  last Wednesday that  Lebanon  stands to gain from a nuclear deal betweenIran and the United States
"An American-Iranian nuclear agreement, if reached, would have important repercussion on the region," Berri told officials visiting his Beirut residence .
"One of the [outcomes] would be the reopening of channels between Tehran and Riyadh, which would have positive results on Lebanon." He was quoted as saying