Berri advises Siniora to dismiss remarks of Iranian official over Iraq sovereignty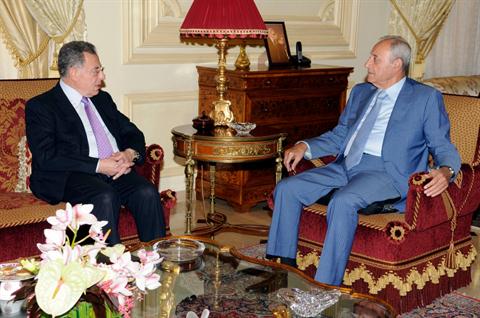 Speaker Nabih Berri advised former Lebanese PM and Future Movement parliamentary bloc leader MP Fouad Siniora to dismiss remarks made by Iranian officials in an effort to to preserve Lebanon.
In remarks published on Wednesday Berri , a close ally of Hezbollah and Iran said that he criticized Saniora on his latest speech, adding it did not fall in the interest of the Future Movement – Hezbollah dialogue.
But Siniora who was reportedly outraged by Iranian's officials remarks responded by asking Berri : "Haven't you heard the stances issued in Tehran?"
This development comes afterIranian Presidential Special Adviser for Religious and Ethnic Minorities' Affairs Ali Younesi declared earlier this month a new Iranian empire, "whose capital is Baghdad."
Siniora was not the only one outraged by the remarks of the Iranian official.
Iraq's top spiritual leader Grand Ayatollah Ali Husayni Sistani blasted also the remarks made by Younesi about Iraqi sovereignty
Sistani confirmed that welcoming the assistance provided to his country in the war against al "Daesh" or ISIS , does not mean turning a blind eye to the identity and independence of Iraqis, in an implicit response to Younesi's remarks.
Similarly Iraq's Foreign Ministry rejected as "irresponsible" the statements attributed earlier on Wednesday to Younesi , who described Iraq as the capital of the former Persian empire, which originated from what is today Iran.
"Iraq is a sovereign nation, ruled by its people, and has positive relations with all of its neighbouring nations, including Iran," read an Iraqi foreign ministry statement responding to the remarks.
"Iraq will not allow intervention into its internal affairs or meddling with its national sovereignty."
Younesi made the remarks in an interview with Iranian Students' News Agency, ISNA.
Younesi was quoted by ISNA as saying that "Iraq is not only regarded in the meantime part of the circle of our civilization's influence, it is (a part of) our identity, culture and it is our capital today as it was in the past.
"One cannot break apart the geography and the culture of the two nations. " he said.
"We will protect all of the nations of the region because we regard them as being part of Iran, and we will stand up to Islamic fundamentalism, Takfiris, atheism, the new Ottomans, the Wahhabis, the West and Zionism," he added.
Future Movement bloc in return blasted Hezbollah and its allies on Tuesday for turning a blind eye to the statement.
"These Iranian stances did not draw any response from Hezbollah or any of its allies, while it is supposed to be part of the Arab society," saidFuture Movement accusing the party of "putting its loyalty to Iran and its Velayat-e faqih (Tehran's form of Islamic rule) above the Lebanese interest and the Arab interest."
Berri, according to his visitors, told Siniora in a telephone conversation that 104 Iranian lawmakers had objected to Younesi's alleged remarks.
"We should focus on local issues to preserve the country's interest," the speaker added.
But the Parliament currently has 290 representatives , meaning that only a minority of the parliament did not agree with the stance of the Iranian official , according to observers .
Tension between Future Movement and Hezbollah escalated over the weekend when several Hezbollah officials criticized the March 14 alliance after the coalition strongly criticized what they called "the role of Iran and its proxies, topped by Hezbollah."
March 14 also accused the party of implicating Lebanon in regional conflicts and seeking to prolong the presidential vacuum.
Despite the tension, the eighth round of dialogue between the two parties is set to take place under Berri's sponsorship in Ain el-Tineh on Wednesday.