Venezuela's economic woes spark election fears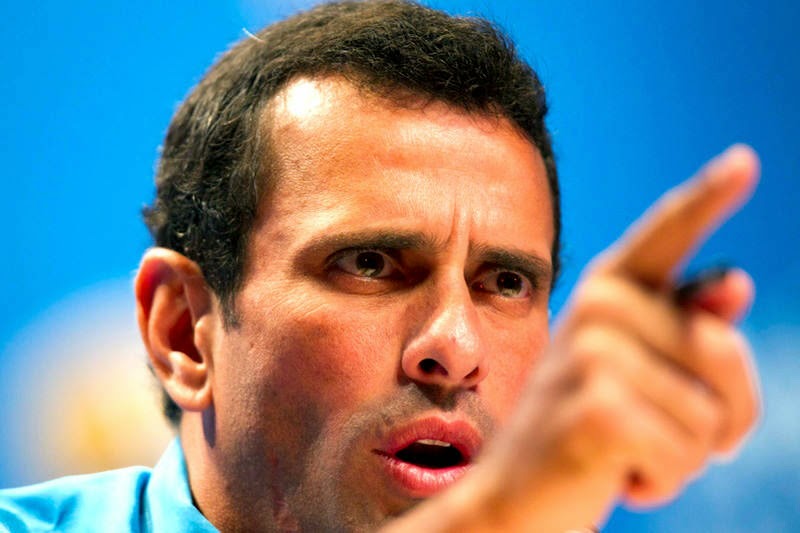 In the ramshackle shantytown of Ramo Verde outside the city of Los Teques, Henrique Capriles is pressing the flesh, slapping backs and smiling for selfies — all part of the retail politicking that being a Venezuelan state governor and opposition politician entails.
Given that midterm elections are not until September, it might seem Mr Capriles, who narrowly lost Venezuela's presidential election two years ago, is campaigning prematurely for his party — especially as polls indicate the ruling Socialist party will be trounced in the vote.
Yet the bigger concern for Mr Capriles is whether the elections will happen at all.
"Are they capable of suspending it? I think they are capable of anything," the 42-year-old says of the Venezuelan government. "If the elections were today they would lose by 20 points. This government has never faced such an electoral scenario."
Such fears are increasingly common in Venezuela. Critics fear the deteriorating economy, forecast to shrink 4 per cent this year and racked by inflation of 69 per cent, could prompt President Nicolás Maduro and his party to stomp on democracy in a desperate attempt to cling to power. An opposition victory could facilitate a "recall referendum" that could force Mr Maduro from office.
Mr Capriles is campaigning not far from the Ramo Verde high-security prison where Leopoldo López and Antonio Ledezma, two other leading opposition politicians, are being held on charges their supporters say are politically motivated.
Last week, several respected former Latin American leaders, including Fernando Henrique Cardoso of Brazil and Costa Rica's Nobel Peace Prize winner Óscar Arias, circulated a letter urging Mr Maduro to use "dialogue rather than aggression" to address the political polarisation.
José Mujica, Uruguay's outgoing president, warned recently that Venezuela could face a coup led by dissatisfied government factions and the military if the situation continued. "I am not saying that is going to happen," he said. But if it did, "defence of democracy would go to hell".
Mr Maduro has blasted such talk, especially the idea of an "auto-coup" to dissolve the legislature and unlawfully assume extraordinary powers. Even if there "is rain, thunder or lightning, this year we are going to have parliamentary elections", he said this week.
However, it was only on Saturday that diplomats from the Union of South American States, visiting Caracas to try to mediate between the opposition and government, revealed the elections would be held in September. A confirmed date has still not been set by Venezuela's electoral council.
Cecilia Sosa, a former Supreme Court president and an opposition politician, believes Diosdado Cabello, the powerful president of the National Assembly, could go as far as asking the top tribunal for a constitutional interpretation that may allow for electoral postponement on the grounds of national threat.
Tulio Álvarez, professor of constitutional law at the Central University of Venezuela, says: "Nobody in their right mind would arrange for elections to be swept away — there is no constitutional disposition that allows that. But then [the government] has violated the constitution several times."
The fears come as relations with the US continue to deteriorate. Caracas last week ordered Washington to slash its local diplomatic staff to 17 from more than 100. The move was met this week by an order from US President Barack Obama — who in December moved to restrict travel and freeze assets on Venezuelan government officials accused of rights abuses — for further sanctions declaring Venezuela a national security threat.
Speaking on national television on Monday, an enraged Venezuelan president blasted Mr Obama, who he said had "personally decided to take on the task of defeating my government and intervening in Venezuela to control it". A day later, Mr Maduro asked congress for special "anti-imperialist" decree powers to defend Venezuela.
Mr Maduro claims frequently that Venezuela faces foreign-sponsored threats and an "economic war" — although with little evidence. Critics says such claims are a way of deflecting attention from an economy that has been hammered by the slump in the price of oil — which accounts for more than 90 per cent of Venezuelan exports. Widespread mismanagement and corruption have also sapped Mr Maduro's standing among even party followers.
"Maduro is trying, but he is not Chávez," says socialist party supporter Jesús Rodríguez, a reference to the late Hugo Chávez, Mr Maduro's charismatic predecessor who won legitimacy with serial electoral victories.
Some analysts believe Mr Maduro's aim is to divide an already fractured opposition. Moderates such as Mr Capriles argue for gradual change, while others — such as the imprisoned Mr López and Mr Ledezma or the still-free María Corina Machado, who was stripped of her Congressional seat last year and faces conspiracy charges — have called for more abrupt "transition".
John Magdaleno, a director of Polity, a Caracas consultancy, agrees that a possible strategy to split the opposition into "moderates and radicals" could indeed help Mr Maduro's electoral chances. Mr Capriles says if that happened, and the opposition lost, it would be "clumsy" and equivalent to a "self-coup".
Ms Machado, who hails the former British prime minister Margaret Thatcher as a role model, is in no doubt that Mr Maduro's government would lose an election. Her fear is whether the elections will be held at all.
She recalls something she says Cuban leader Fidel Castro once told one of Chávez's political allies: "Revolutions only stage elections when they are sure they will win. Period."
Timeline: Venezuela's troubled decades

| | |
| --- | --- |
|  1982 | Military officer Hugo Chávez establishes the Revolutionary Bolivarian Movement-200, influenced by Simón Bolívar, the 19th-century independence hero |
|  1989 | Rising fuel prices caused by free-market policies lead to the Caracazo riots and the deaths of hundreds of people in clashes with security forces — paving the way for the rise of Chávez as leader |
|  1992 | Chávez attempts a coup but fails and is sent to prison. Yet his message resonates with pockets of Venezuelan society. A group of air force units loyal to him launch a second coup attempt the same year |
|  1994 | Chávez is released early from prison after being pardoned by President Rafael Caldera. He changes tactics to seek power via the ballot box |
|  1998 | Chávez wins a landslide victory in presidential elections against more established and well-financed opponents. Reforms are put in place to strengthen the executive branch of government |
|  2002 | Chávez is briefly ousted by senior army officers and replaced by a rightwing businessman, with tacit backing from the US government. He regains power two days later — staging a dramatic return by helicopter to the presidential palace |
|  2002 – 2004 | Further failed attempts to remove Chávez — including a shutdown of the oil industry and a recall referendum. The efforts boost support for Chávez at home and deepen suspicions about US meddling |
|  2006 | Chávez wins another election, which marks the height of his popularity |
|  2012 | An ailing Chávez is re-elected for a fourth term after defeating Henrique Capriles. Foreign minister Nicolás Maduro becomes deputy president |
|  2013 | Chávez misses his January inauguration through illness. His death is announced in March. Maduro narrowly wins elections against Capriles — who demands a recount. Protests erupt |
|  2014 | Venezuela is rocked by demonstrations against rampant crime, a rapidly deteriorating economy and curbs on civil liberties. Forty three people die on opposing camps. Sliding oil prices exacerbate the economic woes |
The Financial Times