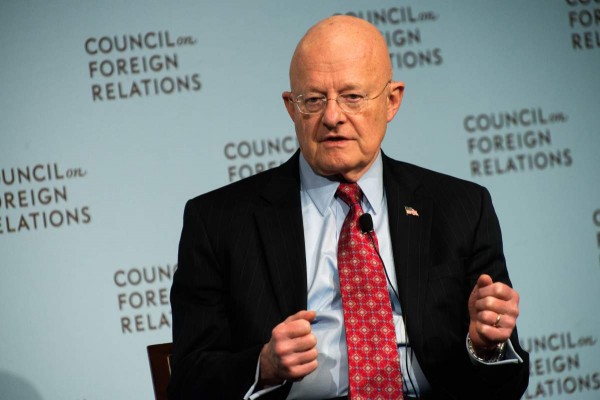 About 40 Americans have returned from the jihadist battlefields of Syria — but they don't pose a threat to American security, Director of National Intelligence James Clapper said on Monday.
Clapper said during a question-and-answer session at the Council on Foreign Relations in New York City that about 180 Americans have attempted to travel or have succeeded in traveling to Syria since the ongoing conflict began. But he said the Americans who have returned went for "humanitarian purposes or some other reasons that don't relate to plotting" and they have not shown "nefarious" intentions.
"If they come back, and they are not involved in plotting, or don't have nefarious purpose, that's their right and privilege as an American citizen to come back," Clapper said. The office of the Director of National Intelligence did not immediately respond to a request for more information.
About 20,000 foreign fighters from more than 90 countries are believed to have gone to Syria, where the Islamic State of Iraq and Greater Syria (ISIS) has seized large swaths of territory. That has raised fears of radicalized fighters returning to carry out attacks in their home countries.
Last week, the FBI arrested three Brooklyn men and charged them with attempting to provide material support to ISIS. Two of the three men allegedly planned to travel to Syria, and the FBI said the men had discussed coordinating possible domestic attacks.
On Monday, Clapper said the U.S. faces more global challenges than at any time in his half-century career in the intelligence community.
"I've been in one capacity or another in the intel business for 52 years, and I don't remember a time when we have been beset by more crises and challenges around the world and the diversity of these crises and challenges than we have today," said Clapper, a retired Air Force lieutenant general. That comment came days after he told the Senate Armed Services Committee that 2014 was the most lethal year for global terrorism on record.
In 2014, 13,000 attacks killed 31,000 people around the world, up from 11,500 attacks and 22,000 killed a year earlier, Clapper said at the Senate hearing on Thursday. Fifty percent of those attacks took place in Iraq, Afghanistan or Pakistan — and ISIS was responsible for more of the attacks than any other group.
Clapper clarified on Monday that the terror assessment he gave Congress was not at odds with a statement from Secretary of State John Kerry, who drew criticism for telling a House subcommittee last week that global violent conflict is lower than it has ever been, saying that Americans were "safer than ever."
Kerry "was thinking of a different context," Clapper said. "What he was thinking about was the more cataclysmic case in point of — case with the Cold War. And he's right; in that context we are a safer country. But I was looking at more the here and now, you know, what happened in 2014 and what kind of what we project out in the next year."
TIME
This error message is only visible to WordPress admins
Error: No connected account.
Please go to the Instagram Feed settings page to connect an account.