Bassil claims that Lebanon prevented 'Syria's Fall'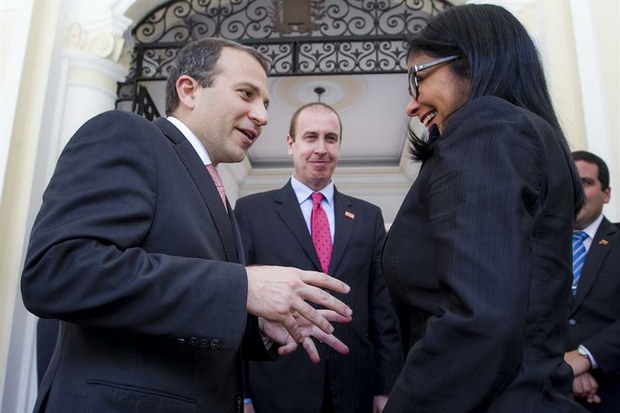 Foreign Minister Gebran Bassil claimed on Monday that Lebanon "prevented the fall" of Syria, which has been witnessing a bloody conflict since around four years, stressing that Damascus must never again interfere in the internal Lebanese affairs.
"It is our duty not to betray or stab Syria, because no matter what the circumstances are , Syria will always remain our close neighbor," said Bassil during a speech before Lebanese expats at the Arab Social Club in the Venezuelan city of Maturin.
"We don't have much choices, we're obliged to be like this," Bassil added.
Lebanon's Hezbollah has been helping the Syrian regime for around two years in its fight against the opposition and its leader Hassan Nasrallah has on several occasions announced that his group will not allow "Syria to fall," describing its regime as a key backer of the party's resistance against Israel.
Bassil added: "We're obliged to think this way, so that Syria does not … return to thinking of us in this manner and so that it doesn't think of entering our country again to protect its perceived weak flank."
The minister went on to say that the Lebanese must not interfere in Syria's affairs "the same as we don't want Syria to meddle in our affairs."
Bassil inked 3 agreements Friday with Venezuela, praising it for standing by Lebanon during the 2006 war between Hezbollah and Israel.
Devastated
In terms of sheer devastation, Syria today is worse off than Germany at the end of World War II. Bashar Assad's regime and the original nationalist opposition are locked in combat with each other and also with a third axis, the powerful jihadists currently led by the Islamic State extremists . And yet, even as the fighting continues, a movement is brewing among planners, activists and bureaucrats—some still in Aleppo, others in Damascus, Turkey, and Lebanon—to prepare, right now, for the reconstruction effort that will come whenever peace finally arrives.
In downtown Beirut, a day's drive from the worst of the war zone, a team of Syrians is undertaking an experiment without precedent. In a glass tower belonging to the United Nations' Economic and Social Commission for Western Asia, a project called the National Agenda for the Future of Syria has brought together teams of engineers, architects, water experts, conservationists, and development experts to grapple with seemingly impossible technical problems. How many years will it take to remove the unexploded bombs and rubble and then restore basic water, sewerage, and power? How many tons of cement and liters of water will be needed to replace destroyed infrastructure? How many cranes? Where could the 3 million displaced Aleppans be temporarily housed during the years or decades it might take to restore their city? And beneath all these technical questions they face a deeper one, as old as urban warfare itself: How do you bring a destroyed city back to life?
More than one-third of the population is displaced. Aleppo is in tatters, its center completely destroyed. The population exodus has claimed most of the city's craftsmen, medical personnel, academics, and industrialists.