Islamic State burns thousands of rare books at Mosul library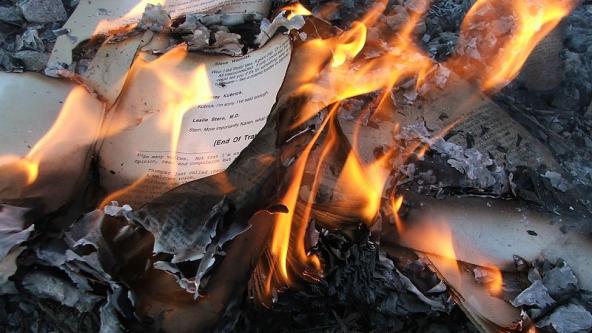 Continuing to display its barbaric act to the world, Islamic State militants ransacked the public library of Mosul in Iraq and burned down thousands of rare books and manuscripts, reports claimed on Thursday.
According to initial reports, around 8000 rare books and manuscripts were set on fire by the ISIS militants.
"A Mosul library official believes as many as 112, 709 manuscripts and books, some of which were registered on a UNESCO rarities list, are among those which were burned down," AL RAI's chief international correspondent Elijah J Magnier was quoted as saying by The Independent.
Mosul Public Library Director Ghanim al-Ta'an has said that later on ISIS militants demolished the building with explosives.
Most of the manuscripts that have been destroyed were from the eighteenth century. Moreover, several Syriac books printed in Iraq's first printing house in the nineteenth century, books from the Ottoman era, Iraqi newspapers from the early twentieth century and some old antiques like an astrolabe and sand glass used by ancient Arabs were also destroyed.

A University of Mosul history professor told the Associated Press extremists began destroying the library – established in 1921 and symbolic of the birth of modern Iraq – earlier this month.
Zee News