Rights group calls for U.N. arms embargo on Syria over barrel bombs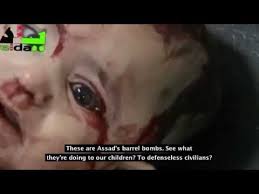 Syrian government troops carried out hundreds of indiscriminate aerial attacks in the past year, most with barrel bombs, in defiance of a United Nations Security Council demand to stop, a U.S. rights group said, calling for a U.N. arms embargo.
The barrel bombs, containers packed with explosives and projectiles that are dropped from helicopters, have killed thousands of civilians, Human Rights Watch said, adding that Syrian forces had carried out at least 1,450 air attacks in southwestern Daraa and northern Aleppo in the past 11 months.
"The majority appear to be barrel bomb attacks," Human Rights Watch deputy Middle East and North Africa director Nadim Houry told a news conference.
Human Rights Watch, Western countries and the United Nations – including in a recent report on Syria to the Security Council – have for months raised concerns about the use of barrel bombs.
Syrian President Bashar al-Assad said earlier this month that the Syrian air force did not use the lethal devices. U.S. and European officials have said Assad's denial was not credible.
A spokesman for the Syrian military was not immediately available for comment on Tuesday.
The U.N. Security Council unanimously adopted a resolution on Feb. 22, 2014 demanding that all parties stop indiscriminate attacks in populated areas, including shelling and aerial bombardment such as barrel bombs. It threatened "further steps" in the case of non-compliance.
"The Security Council has done nothing to enforce its own words," Houry said.
Human Rights Watch called for a targeted arms embargo to be imposed on the Syrian government and other rebel groups responsible for widespread abuses. Militant groups Islamic State and al Qaeda-linked Nusra Front, who are fighting in Syria, are already subject to a United Nations arms embargo.
The U.N. Security Council has long been deadlocked on Syria with Assad's ally Russia — backed by China — vetoing several resolutions on the Syrian conflict, which started with a pro-democracy movement in 2011 and grew into an armed uprising.
Human Rights Watch said it examined satellite imagery and had identified at least 450 major damage sites in 10 towns and villages held by rebels in the Daraa and more than 1,000 in Aleppo between Feb. 22, 2014 and Jan 15, 2015.
Human Rights Watch cited a report by the Syrian Network for Human Rights, which said barrel bombs had killed 6,163 civilians, including 1,892 children, since Feb. 22, 2014.
Reuters