Iran hiding a secret nuke site, a dissident group alleges
An Iranian dissident group accused Tehran on Tuesday of hiding a secret nuclear facility even as U.S. negotiators signaled they're ready to make a concession to reach a deal with Iran on its disputed nuclear program.
In Washington, the National Council of Resistance of Iran showed satellite imagery and photographs of what it said was a secret facility buried several stories under a military base on the outskirts of Tehran. The facility, protected by vault-like doors and anti-radiation shielding, is used for research and development, and advanced machinery produces enriched uranium, said the group's spokesman, Alireza Jafarzadeh.
The secrecy of the program and its underground location are signs that its purpose is "for a nuclear weapons project," said the NCRI's U.S. representative, Soona Samsami.
She called on the United States to demand that Iran provide the United Nations nuclear watchdog agency immediate access to the site.
"If the USA is serious about preventing the Iranian regime from getting nuclear weapons, it must make continuing talks dependent on letting the IAEA (International Atomic Energy Agency) to immediately visit this site," Samsami said.
The NCRI's allegations could not be confirmed, and U.S. officials did not respond to requests for comment. The United States and other Western nations have cited evidence that Iran has harbored a secret weapons program, but Iran denies it.
The new allegations come a day after U.S. negotiators meeting with their Iranian counterparts in Geneva said they had discussed a major U.S. concession: allowing Iran to begin increasing nuclear fuel production after 10 years if Iran sticks to agreed-upon limits during that time period.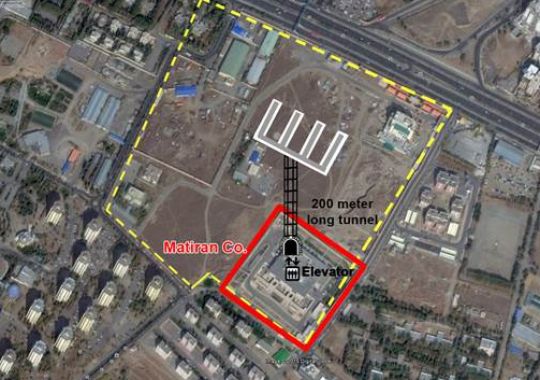 The United States had indicated that Iran should be barred from increasing nuclear fuel production for 15 years or more. Secretary of State John Kerry said the U.S. goal is to limit production for a "two-digit" number of years.
Iran has insisted that any steps it takes must be matched by significant and rapid relief from stringent economic sanctions imposed by the West.
The U.S. goal is a deal that prevents Iran from producing enough nuclear fuel to make a bomb for at least a year. The reasoning: Give the United States time to catch Iran cheating and do something about it.
Hossein Mousavian, a former spokesman for Iran's negotiating team, told USA TODAY the United States will have to accept compromise if it wants a deal.
"They can't say Iran should do all the major steps in the first six months, and they will only lift substantial sanctions after 15 years. It's not going to happen," Mousavian said. "Iran is willing to implement all its commitments in the shortest period of time and is suspicious of pushing the comprehensive package for a decade or more."
Iran considers the NCRI a terrorist organization. Clare Lopez, a former CIA analyst at the Center for Security Policy, a Washington think-tank, said the group has a solid track record for revealing secret Iranian nuclear facilities. It first revealed nuclear facilities at Natanz and under a mountain in Fordo and a suspected site at Parchin that has since been razed.
The new revelation "means (the Iranians) are negotiating in bad faith," Lopez said.
David Albright, a nuclear weapons expert and president of the Institute for Science and International Security, urged caution about the group's claims. "They tend to be good at identifying sites, but usually, they misinterpret their purpose," he said.
USA Today