Greek PM declares victory despite making big concessions to avert financial collapse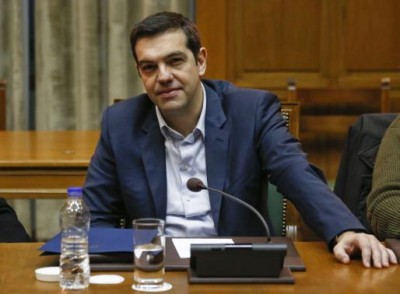 Greek Prime Minister Alexis Tsipras declared victory on Saturday after agreeing a last-minute conditional financial rescue deal with Europe, despite making big concessions to avert financial collapse within days.
With his left-wing leadership pilloried by German conservatives, Tsipras insisted defiantly that Friday night's agreement canceled austerity commitments and dispensed with the "troika" – European and IMF inspectors loathed by many Greeks.
"Yesterday we took a decisive step, leaving austerity, the bailouts and the troika behind," he said in a televised statement to the Greek nation. "We won a battle, not the war. The difficulties, the real difficulties … are ahead of us."
After often ill-tempered negotiations in Brussels, Greece secured a four-month extension to euro zonefunding, which will avert bankruptcy and a euro exit, provided it comes up with promises of economic reforms by Monday.
Had no deal been reached, some officials had feared panic when Greek banks reopened on Tuesday after a long holiday weekend. But Athens said agreement at the meeting of euro zone finance ministers should calm Greek savers who thought capital controls might be imposed as a prelude to leaving the euro.
A source at the European Central Bank also ruled out restrictions on savers' right to withdraw their deposits, aiming to dismiss expectations that – as euro zone member Irelandput it – the Greek banking system might have gone "belly up".
Tsipras and his Syriza party won power last month on promises to end Greece's EU/IMF bailout program and cooperation with the "troika" – European Commission, ECB and IMF officials who have monitored Greece's compliance with its austerity and reform commitments.
However, Athens has been forced to accept a conditional extension of the bailout at the insistence of Eurogroup members led by Germany. It must also still deal with the troika, albeit renamed in the Brussels agreement as "the three institutions".
GOING "BELLY UP"
Ireland, which had to make deep budget cuts under its own EU/IMF bailout program, spelt out the uncomfortable truth that the euro zone had yielded nothing to the Greeks, for all the brave talk from Tsipras.
"Their political problem is that this a reversal of their election position. There is absolutely nothing on the table that could be considered a concession," Irish finance minister Michael Noonan said.
"They're now compromising and compromising quite significantly," he told national broadcaster RTE, but made clear Athens had had little choice. "The biggest threat to Greecewas that their banking system would go belly up next Wednesday."
Tsipras has won wide support at home for what Greeks see as their leaders finally getting tough instead of going to Brussels cap in hand and taking orders from Berlin. But he was also under intense pressure at home, with emergency funding controlled by the ECB for the banks due to hit a ceiling mid-week.
About a billion euros ($1 billion) flooded out of Greek bank accounts on Friday, a senior banker told Reuters, due to savers' fears that the talks would fail and Athens might have to halt such withdrawals or prepare to reintroduce its own currency.
This added to an estimated 20 billion euros that Greeks have withdrawn since December, when it became clear that Syriza was likely to win last month's elections.
While Ireland has already exited its bailout and is one of Europe's fastest growing economies, Noonan said Greece now faces another bailout on top of the two totaling 240 billion euros that it has taken since 2010.
Friday's deal had been "the first set of discussions to ensure Greece doesn't collapse next week", said Noonan. "Once you get them into the safe space for the next four months, there'll be another set of discussions which will effectively involve the negotiation of a third program for Greece."
Greek Finance Minister Yanis Varoufakis assured savers that the country did not face financial ruin.
"It is quite clear that the reason why we had a deposit flight was because every day, even before we were elected, Greeks were being told that if we were elected and we stayed in power for more than just a few days the ATMs will cease functioning," he told reporters on Friday. "Today's decision puts an end to this fear, to the scaremongering."
The deal did open the possibility of lowering a target for Greece's primary budget surplus, which excludes debt repayments, freeing funds to ease what Tsipras calls the nation's "humanitarian crisis". Athens must now negotiate a long-term deal with the euro zonebefore the extension runs out in the early summer.
Some Greeks wondered what the government had achieved. "We went through two months of agony, emptied the banks, to realize we are still a debt colony," 54-year-old electrician Dimitris Kanakis told Reuters. "The paymasters call the shots."
Reuters