Lebanon marks on Saturday the tenth anniversary of slain former Prime Minister Rafik Hariri, who was assassinated on February 14, 2005.
The Feb. 14 assassination killed Hariri and 21 others and wounded more than 200 people, stunning a nation long used to violence. The charismatic billionaire businessman was Lebanon's most prominent Sunni politician. Although a divisive figure, he was credited with rebuilding downtown Beirut after the ravages of the 1975-90 civil war.
Five Hezbollah suspects are being tried in absentia by the Special Tribunal for Lebanon based in The Hague.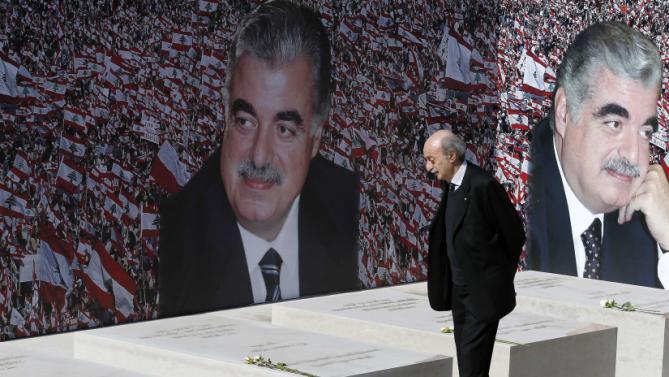 Progressive Socialist Party leader MP Walid Jumblat, who was then close to Hariri, visited the grave of the former PM in downtown Beirut at the head of a delegation.
He laid wreaths of red roses on the tomb of Hariri.
Al-Mustaqbal chief and former Prime Minister Saad Hariri arrived overnight in Lebanon to attend the tenth anniversary of his father's assassination at the BIEL exhibition center in downtown Beirut on Saturday.
According to al-Mustaqbal newspaper, Hariri a leader of the March 14 alliance arrived in Lebanon coming from Riyadh to give a speech at a rally commemorating his slain father.
Head of al-Mustaqbal parliamentary bloc MP Fouad Saniora also visited the grave.
Mustaqbal MP Ahmed Fatfat pointed out in comments to Voice of Lebanon radio (93.3) that the main reason behind the assassination of Hariri is his intention to restore Lebanon's unity, power and position in the region and the world.
"They killed you, but they will never be able to kill your legacy," Lebanese Forces leader Samir Geagea tweeted via his account on Twitter.
Canadian Ambassador Hilary Childs-Adams also laid a wreath on the grave of Hariri.
Central Bank Governor Riad Salameh described the slain PM as "a man of vision and exceptional initiatives."
Representatives of Speaker Nabih Berri, Prime Minister Tammam Salam and cabinet's Secretary General Suhail Bouji also laid a wreath on the grave of Hariri.
All vehicles were removed from the streets leading to BIEL ahead of a rally set to be held at the venue to mark the assassination of Hariri.
A torch sculpture, that is part of a memorial that includes a statue of Hariri, was also lit near the St. Georges Hotel where the blast went off at exactly 12:55 pm, as Nazek Hariri, the wife of the slain PM, gave a recorded speech to commemorate the occasion.
Banners hung along on the streets of Beirut in honor of the 10th anniversary show the late Hariri with the Arabic words: "Ten, one hundred, one thousand years: We will continue."
The massive explosion that tore through his convoy on the Beirut seaside 10 years ago sent a tremor across the region and unleashed a popular uprising that briefly united the Lebanese and ejected Syrian troops from the country. But a decade later, and despite millions of dollars spent, justice remains elusive in a case that has been overshadowed by more recent turmoil.