Britain: Russia's Putin acting like 'tyrant' over Ukraine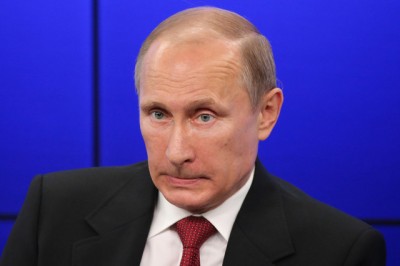 Britain accused Russian President Vladimir Putin on Sunday of acting like a "tyrant" over Ukraine, but said Kiev's forces could not defeat Russia's army on the battlefield and that only a political solution could end the bloodshed.
The comments, by British Foreign Secretary Philip Hammond, were his toughest yet onRussia and came after he rejected a suggestion that Britain had become an "irrelevance" because it wasn't directly involved in talks with Putin to end the Ukraine crisis.
"Ukrainians can't beat the Russian army, that's not a practical proposition. There has to be a political solution," Hammond told Sky News.
"This man (Putin) has sent troops across an international border and occupied another country's territory in the 21st century acting like some mid-20th century tyrant. Civilized nations do not behave like that," he said.
Russia denies Western and Ukrainian accusations it is supporting pro-Russian separatists in eastern Ukraine by sending regular troops and weapons into the region.
Hammond's comments came a day after German Chancellor Angela Merkel said sending arms to help Ukraine combat the separatists would not solve the crisis, drawing sharp rebukes from U.S. politicians.
Hammond said Britain wasn't planning to arm Kiev's forces but spoke out strongly in favor of renewing European Union economic sanctions on Russia and possibly escalating them.
"This is one of the last opportunities that Russia will have to avoid yet further significant damage to its economy that is bound to happen if the intransigence of Vladimir Putin forces the rest of the world to increase and tighten the sanctions," Hammond said of the latest push for a peace deal.
Combined with a steep fall in global oil prices that Hammond said was having a "catastrophic" impact on the Russian economy, the sanctions would force Putin to alter course, he predicted.
"If your economy is cratering you cannot support the kind of foreign adventures that Putin is undertaking. You cannot support the kind of security state structure that he has generated and that he needs to keep him there," he said.
"He will have to trim his behavior to reflect the decline in the Russian economy."
Hammond also said Russia must withdraw from Crimea, the Black Sea peninsula Moscow annexed from Ukraine last March.
Britain was incensed last month after two Russian "Bear" long-range bombers flew over the English Channel, forcing it to reroute civil aircraft. It later summoned the Russian ambassador over the incident.
More than 5,000 people have been killed in eastern Ukraine since the conflict erupted there last April.
Reuters