After Canadian letdown, Amal Clooney targeting Sisi to free journalists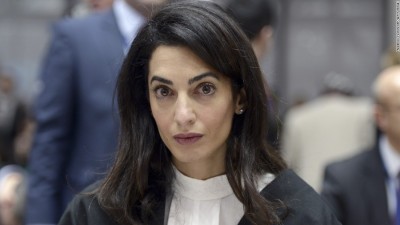 The fate of Mohamed Fahmy, a Canadian, and Baher Mohamed, an Egyptian, hangs in the balance. Their colleague Peter Greste was deported last month to his native Australia.
The retrial of two Al Jazeera journalists convicted in Egypt last year of terrorism-related charges will begin on Thursday, according to one of the pair's lawyers.
The announcement, coming just a week after the release of their Australian colleague Peter Greste, has poured cold water on talk of an imminent release for one of the two detained men, Canadian Mohamed Fahmy. Now there is criticism that the Canadian government has not done enough to secure his freedom. Mohamed's brother, Adel Fahmy, told the Canadian Broadcasting Corp. on Sunday that their lawyer, Amal Clooney, was told by the Canadian ambassador that there were "100 per cent" assurances that his brother's release was "a done deal."
But today's announcement torpedoed hopes that that was the case. Fahmy's brother, Adel Fahmy, told CBC that the family was "devastated" by the news.
"Now my brother has to go through a circus of a retrial again. It's just unbearable," said Fahmy. "We are devastated. We literally had our bags … packed. We had a press conference room in Toronto booked for when my brother arrives so that Ms. Amal Clooney and him can start a press conference to highlight and celebrate his freedom."
Mr. Greste, Mr. Fahmy, and their Egyptian colleague Baher Mohamed were each sentenced last year to seven to 10 years in prison on terrorism-related charges in what was widely regarded as a show trial. After broad Western criticism of the convictions, Egypt's high court ordered the retrial of the trio last month.
Greste was unexpectedly set free last week under Egyptian presidential powers created in November that allow the deportation of foreign nationals being held in prison. Soon after, Fahmy announced that he was relinquishing his Egyptian citizenship, leaving him solely a national of Canada and thus eligible for deportation under the same law. Canadian officials last week said Fahmy's release was "imminent."
Adel singled out the Canadian government for blame in the situation, saying that it had not done enough to push for his brother's release and was too mealy-mouthed in its statements, such as being "deeply concerned" about his brother's situation. "The Americans don't even have a defendant in this case and when the verdict was announced, they said it was a 'draconian' verdict," Adel said.
The National Post reports that Fahmy's lawyer, Amal Clooney – the wife of actor-director George Clooney – told Adel that "the Canadian government is not speaking to the right people, that they are not being aggressive enough." Ms. Clooney has asked to speak directly to Egyptian President Abdel Fattah el-Sisi to resolve the matter.
The Toronto Star notes that the situation in Egypt is fluid and subject to conflicting interests between state institutions. Canadian physician Tarek Loubani, who was imprisoned in Egypt during the political upheaval in 2013, told the Star that Fahmy's situation resembles his own.
"There was a huge conflict between the foreign affairs (ministry) that wanted us out, the interior ministry that wanted us in, and the prosecutor who didn't want anyone to interfere," he said.
After Loubani and Toronto filmmaker John Greyson were released from detention, they were barred from leaving the country because the prosecutor initially refused to close their case.
"I think the Canadian government doesn't appreciate the power it has here," Loubani said in a phone interview. "That was indicative in our own situation."
The Globe and Mail writes that President Sisi may still try to deport Fahmy, but "the law is largely untested and it is unclear whether Mr. el-Sissi can still deport Mr. Fahmy midway through a retrial. If not, the Egyptian leader will either have to deport the Canadian in the next four days, before his retrial is due to start on Thursday, or let the new legal process run its full course."
The Globe and Mail