Hamas cofounder calls for branches in Lebanon, Syria to fight Israel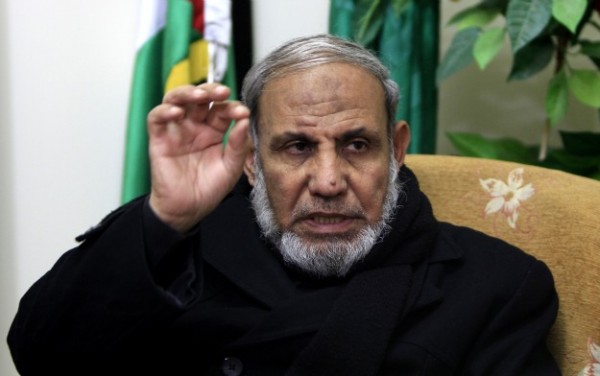 Mahmoud al-Zahar,a cofounder of Hamas and its military wing Izz ad-Din al-Qassam Brigades called Wednesday for the formation of Palestinian militant groups (that will be loyal the Gaza based Islamist movement ) in refugee camps in Lebanon and Syria for attacks on Israel, Israeli website Ynetnews reported on Thursday .
Zahar was quoted as telling reporters in the Gaza Strip that Lebanese and Syrian branches of the Izz ad-Din al-Qassam Brigades, should launch attacks on Israel "to help us liberate Palestine".
Hamas and Israel fought a 50-day war in mid-2014 that killed nearly 2,200 Palestinians and 73 on the Israeli side, most of them soldiers.
Zahar's a member of the Izz ad-Din al-Qassam Brigades, was killed by Israeli fire in Gaza on 5 January 2008.
Since the formation of the Hamas'"Change and Reform" government in the Palestinian National Authority in March 2006, al-Zahar has served as foreign minister in the government of prime minister Ismail Haniyeh.
Zahar is a surgeon by profession and one of Hamas' most scathing and sophisticated leaders. Khaled Meshaal, Hamas' political bureau chief, is viewed as Zahar's political archrival .
Zahar is seen as a strong ally of Iran within the Hamas leadership . In an interview last year he claimed that Iran unconditionally support Hamas
Zahar's sttaments could spell trouble for Lebanon  because several terrorists wanted for involvement in confrontations with the Lebanese army are hiding in the Palestinian refugee camps, according to reports
Ein al-Hilweh  the largest Palestinian refugee camp in Lebanon with over 70,000 Palestinian refugees and their descendants, swelled to nearly 120,000, as a result of influx of refugees from Syria since 2011. The camp is located near the port city of Sidon in south Lebanon.
Ein el-Hillweh was established in 1948 by the International Committee of the Red Cross to accommodate refugees from northern Palestine. Because Lebanese Armed Forces are not allowed to enter the camp Ein al-Hilweh has been called a "zone of unlaw" by the Lebanese media. Many people wanted by the Lebanese government are believed to have taken refuge in the camp as a result of the lack of Lebanese authority.
The reason the Lebanese Armed Forces are not allowed to enter the camp Ein al-Hilweh goes back to 1969 agreement between Yassir Arafat and the Lebanese army commander General Emile Bustani.. Egyptian president Gamal Abdel Nasser helped to broker the deal.
Under the agreement which was never published the 16 official Palestinian camps in Lebanon were removed from the stern jurisdiction of the Lebanese army and placed under the authority of the Palestinian Armed Struggle Command. Although the camps remained under Lebanese sovereignty the new arrangements meant that, after 1969, they became a key popular base for the PLO.