Kurds retake from ISIS an oil facility in north Iraq, 15 workers still missing
Kurdish peshmerga forces retook a small crude oil station near the northern Iraqi city of Kirkuk which Islamic State insurgents seized earlier on Saturday, but the fate of 15 employees remained unclear.
Two officials from the state-run North Oil Co told Reuters the militants had seized a crude oil separation unit in Khabbaz on Saturday morning and said 15 oil workers were missing after the company lost contact with them.
One of the officials and a Kurdish military source said the peshmerga forces had regained control of the facility on Saturday evening and were combing it for explosives.
They were unable to confirm the fate of the 15 workers or provide details about the losses incurred by either side.
"We received a call from one of the workers saying dozens of Daesh fighters were surrounding the facility and asking workers to leave the premises. We lost contact and now the workers might be taken hostage," an engineer from the North Oil Co told Reuters, using a derogatory acronym for Islamic State.
Kurdish military sources said Major General Hussein Mansour, who had mobilized a unit from Khanaqin to reinforce the Kurdish forces outside Kirkuk, was killed by a sniper in the fighting. The mayor of Khanaqin confirmed the report.
IS seized at least four small oilfields when it overran large areas of northern Iraq last summer, and began selling crude oil and gasoline to finance their operations.
Khabbaz is a small oilfield 20 km (12 miles) southwest of Kirkuk with a maximum production capacity of 15,000 barrels per day. It was producing around 10,000 bpd before the attack.
Islamic State insurgents attacked regional Kurdish forces southwest of Kirkuk on Friday, seizing some areas including parts of the Khabbaz oilfields.
Further south near Baghdad, two bombs in a central neighborhood and a farming district south of the capital killed at least seven civilians on Saturday, medics and police said.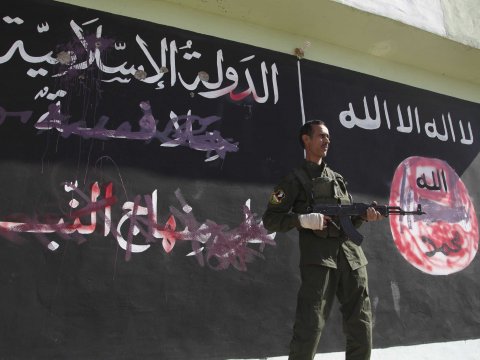 Two soldiers were also killed when a bomb exploded close to an army patrol near Taji, a predominantly Sunni Muslim rural district north of Baghdad.
At least 24 others were wounded in the explosions.
In Falluja in the western province of Anbar, hospital sources said five people, including two children, were killed during Iraqi army shelling of Islamic State positions. They said at least 44 others were wounded, including 25 IS fighters.
It is difficult to confirm reports from hospitals in the area, which is mostly controlled by Islamic State.
The radical jihadist group has declared a medieval-style caliphate in parts of Iraq and Syriaand poses the biggest challenge to the stability of OPEC member Iraq since the fall of Saddam Hussein in 2003.
Reuters