Hagel Says Goodbye to Troops at Ceremony Attended by Obama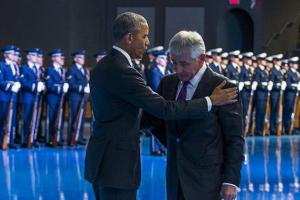 Defense Secretary Chuck Hagel on Wednesday bid his official good-bye to the Defense Department he has led for two years, expressing his "deepest gratitude" to "the men and women who serve our country, and their families, whose service and sacrifice is unequaled."
"I want you all to know that the things I have most respected and most admired are your dignity, your courage, and your dedication," Hagel said at the Armed Forces Farewell Tribute hosted at Joint Base Myer-Henderson Hall, Virginia, by President Barack Obama. "The opportunity to be part of this is something I could not have imagined when I joined the Army 48 years ago."
Hagel submitted his resignation in November — a move prompted by the White House. Former Deputy Defense Secretary Ash Carter was nominated by Obama to succeed Hagel. Carter is scheduled to face his confirmation hearing on Feb. 4.
But just as Hagel kept quiet during the flap erupted by the change, there was no mention of disagreement or disappointment expressed by him during his departing ceremony. Hagel received praise from Obama, Vice President Joe Biden and Joint Chiefs of Staff Chairman Gen. Martin Dempsey for his integrity and courage.
"We gather to pay tribute to a true American patriot," Obama told the gathering. Noting Hagel's Nebraska roots and his combat service in Vietnam as an Army sergeant, Obama said the ceremony also was "a celebration of a quintessentially American life – a man from the heartland who devoted his life to America."
The first-ever former enlisted soldier to hold the top Pentagon job, and the first Vietnam veteran as well, Hagel told the gathering that "of all the opportunities my life has given me, I am most proud of having once been a soldier."
The lessons from my time in uniform about trust, responsibility, duty, judgment, and loyalty to your fellow soldier – these I have carried with me throughout my life," he said.
Obama recalled "some of the defining moments" of Hagel's life – as a 20-year old volunteering for Vietnam, and as a soldier near Saigon rushing to pull his fellow soldier and younger brother, Tom, from a burning armored personnel carrier.
Still later Hagel resigned as a deputy administrator at the Veterans Administration over the agency's treatment of Vietnam veterans, in particular its attempts to dismiss or downplay health effects of Agent Orange, Obama recalled.
In politics, Hagel was a Republican who was always ready to work with Democrats, Obama said, recalling that then-Sen. Hagel provided guidance when Obama joined the Senate in 2005.
"We often saw the world the same way, including our conviction that as we must never hesitate to defend nation we must never rush into war," Obama said. "We both believe that America should only send her sons and daughters into harm's way when it's absolutely necessary, and then to make sure they have everything they need to succeed and that they have a mission that is worth of their sacrifice."
During his two years as Defense Secretary, Obama said Hagel successfully set the stage for America's honorable end to the war in Afghanistan, strengthened the NATO alliance and positioned American forces in the Pacific to deal with growing challenges while improving communications with the Chinese military.
Dempsey recalled Hagel's oral history of his time in the Army and Vietnam, and how he volunteered after the local draft board told him he would lose his student deferment unless he returned to college.
"So instead of being drafted he volunteered on the spot to serve his country in war, just as his grandfather had done in World War I and his father in World War II," Dempsey said. "That same sense of responsibility, sense of commitment to our country and genuine sense of humility characterized his leadership as our secretary of defense."
Hagel was "tested by the crucible of combat," Dempsey said.
Biden, who had served in the Senate with Hagel, told the gathering: "There's no one I know … who better fits the standard that President Kennedy set out for our generation when he said our success or failure will be measured by the answers to four questions. We're we truly men of courage? Were we truly men of judgment? Were we truly men of integrity? Were we truly men of dedication?
"Well, Chuck, there's a lot more than your physical courage that I admire," Biden said. "It's your moral courage and political courage. You have more than anyone I've ever served with in all the years I served in the United States Senate and as vice president."
Hagel assumed the Pentagon post from Leon Panetta in late 2013, though he actually was being considered for a national security post during Obama's first administration, former Defense Secretary Robert Gates recalled in "Duty, Memoirs of a Secretary at War."
But Obama determined he could not bring in Hagel if Gates – also a Republican – stayed on at the Pentagon, which Obama requested, Gates said.
When Hagel did enter the administration it was amid controversy and criticism – mostly from his one-time Republican colleagues. Some attacked him for his criticisms of the Israel lobby. Others hit him on his opposition to the surge of U.S. forces in Iraq during the Bush administration.
Hagel sat through Sen. Ted Cruz's suggestion that he might have earned money from terrorist organizations and retreated from earlier statements that Congress is intimidated by the Israel lobby. Hagel was verbally pummeled by Arizona Sen. John McCain's demand to a "yes or no" answer to whether the surge succeeded in Iraq.
The Nebraska senator squeaked through confirmation but with 40 Republican lawmakers voting against him.
When word emerged in November that Obama wanted to replace Hagel, however, McCain quickly defended the man he'd harangued two years earlier.
"I know that Chuck was frustrated with aspects of the administration's national security policy and decision-making process," McCain said in a statement at the time. "His predecessors [Gates and Panetta] have spoken about the excessive micro-management they faced from the White House and how that made it more difficult to do their jobs successfully. Chuck's situation was no different."
In his departing remarks, Hagel revisited a subject raised with reporters in a recent interview – the limits of military power in resolving conflict.
"Some problems require evolving solutions that give us the time and space to adjust, and the patience to seek higher ground and lasting results," he said. "Our world, captive to immediacy, uncertainty, and complexity, is not moving towards less complicated problems, but rather toward more global challenges rooted in historic injustices and conflicts."
Military.com