Apple reports largest profit of any public company in history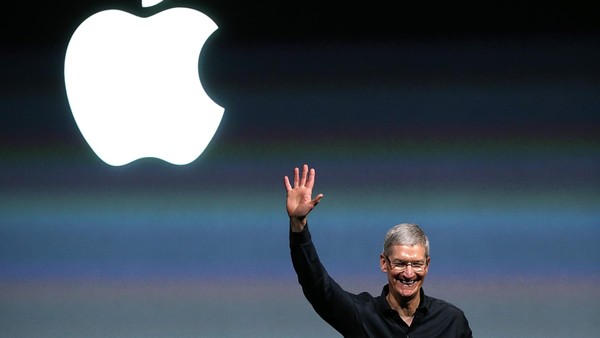 Apple reported the largest net income of any public company in history in the three
months to December, as record iPhone sales of 74.5m units beat even the most bullish Wall Street forecasts.
"Demand for iPhone has been staggering, shattering our high expectations," said Tim Cook, chief executive. "This volume is hard to comprehend."
Apple has now shipped more than 1bn iPhones, iPads and iPods running its iOS operating system that launched in 2007.
Apple's net profit grew 37 per cent to $18bn, topping ExxonMobil's previous quarterly record of $15.9bn in 2012, according to S&P Dow Jones Indices.
The financial results and the iPhone's strong performance come as a vindication for Mr Cook, who has seen off questions over whether anyone could succeed Apple's late co-founder Steve Jobs. With pressure building to maintain the iPhone's momentum, Mr Cook faces his next test in April with the launch of the Apple Watch, its first new device since the death of Jobs.
Sales of the iPhone leapt 46 per cent over the prior year in the crucial holiday shopping quarter, driven by the highest number of first-time buyers since the smartphone launched in 2007. Analysts say the performance brings Apple close to reclaiming its title from Samsung as the world's largest smartphone maker by volumes.
That is the question now hanging over Apple. The popularity of larger iPhones and success in China helped Apple to post $18bn in net profit on $75bn worth of sales for the three months that ended in December, beating forecasts on almost every metric.
First-quarter revenues at the company, now valued at $650bn by investors, grew 30 per cent year-on-year to $74.6bn. Earnings increased by 48 per cent to $3.06, well ahead of analysts' estimates. "For a company of our size that is not a small feat," said Luca Maestri, chief financial officer.
Apple's cash position at the end of the quarter stood at $142bn, net of debt. That is almost $23bn up on three months earlier, with 89 per cent of its cash now held outside the US.
Surging demand in China for the latest iPhones saw sales of the smartphone there double and drove revenues in the region 70 per cent higher to $16.1bn. However, the iPhone's biggest market remained the US, despite analysts' predictions that it would be overtaken by China in the quarter.
Overall sales in the Americas grew 23 per cent to $30.6bn, with the US up 26 per cent.
Expectations were high for Apple as it published its first-quarter earnings. Tim Bradshaw and Sarah Mishkin covered the news, earnings call and analyst reaction from San Francisco.
"Our results would have been even stronger absent fierce foreign exchange volatility," Mr Cook said on a conference call with analysts. Mr Maestri said that the company was considering "realigning" pricing of its products in Russia, a very unusual move between new product launches, due to the tumbling rouble.
Shares in the company rose 5.8 per cent in after-market trading to $115.42.
Apple's gross margin rose 2 percentage points to 39.9 per cent, its highest in more than two years.
While Apple did not reveal sales of individual iPhone models, a $50 increase in its average selling price to $687 suggests that the larger 6 Plus experienced strong sales.
"Demand [for iPhones] has been so strong we haven't been able to reach supply and demand balance until this month," Mr Maestri said.
However, the iPad remained a weak spot, with unit sales dropping 18 per cent to 21.4m, as Apple's tablet computer faces growing competition from cheaper devices and existing customers delay upgrading.
For the quarter ending in March, Apple said it expected between $52bn and $55bn in revenues, with a gross margin of 38.5-39.5 per cent.
"We feel very good about the guidance considering the fact we are going to have some significant foreign exchange headwinds," Mr Maestri said, without which it would be forecasting margins to increase further.
Financial Times