Japan turns to 'I am Kenji' Facebook page on hostage crisis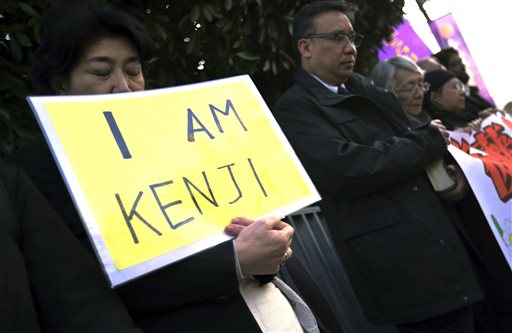 The plight of freelance journalist Kenji Goto, taken captive by Islamic State group militants, has gripped Japan, and the people's hopes for his safety are now on Facebook with a simple, unifying plea: "I am Kenji."
The video, posted online last week, showing Goto and another Japanese hostage, has dominated mainstream media here, a relatively crime-free nation unaccustomed to such violence.
But as government officials made stately pronouncements on TV news, regular people were taking action of their own — online, with some rallying to Goto's support and others mocking the terrorists with images — in a quiet but massive show of defiance.
"We want Kenji to come home," said Taku Nishimae, a Japanese filmmaker living in New York, who started the "I am Kenji" Facebook page, right after seeing last week's video threatening the hostages' lives.
The page, with thousands of "likes," asks people to post self-portraits and other photos with a sign that says: "I am Kenji."
It's a reference to the "Je Suis Charlie," or "I Am Charlie," slogan showing solidarity with Charlie Hebdo, the Paris weekly newspaper where 12 people were killed in a terrorist attack earlier this month.
"Let's show that we're united, and tell that it's unjust to kill innocent citizens and it's meaningless to turn entire nation against you," the Facebook page says in English and Japanese.
Nishimae, 52, stressed the page is not about taking political sides, or even about freedom of the press, but a more general human statement, like a desperate prayer.
About a thousand people have posted photos, some of them portraits holding handwritten messages, some identifying themselves as Muslim, but all with the same message.
The slogan has taken off. "I am Kenji" was among the signs held up at a demonstration of about 1,000 people outside the prime minister's office over the weekend, demanding the government do more to save the hostages.
"It's great people are getting inspired," said Nishimae, who has known Goto, 47, for 12 years and has worked with him on documentary movies. "Even now, I can't believe it. But it is Kenji. It feels so unreal."
They had hit it off right away, he recalled. Goto devoted his life to telling the stories of refugees and children in war zones, and had worked with UNICEF.
Robert Campbell, an American professor of Japanese literature at the University of Tokyo, did not know Goto personally and posted his "I am Kenji" photo out of impulse. But he wanted more people to know Goto's work and added a translation he did into English of Goto's blog on the suffering of the people of Syria, which starts: "Why did they have to die?"
"It's a small act that we can all do. It is important," Campbell, 57, said. "You feel connected to other people. That's all very good."
Campbell, a 30-year resident of Japan, said he sensed a change from the stereotype of Japanese being standoffish, afraid to speak up and preoccupied with appearances. And "I am Kenji" highlights that change, he said, with more Japanese "putting down their apprehension of being judged."
Another video over the weekend appeared to show hostage Haruna Yukawa had been killed and demanded a prisoner exchange for Goto. That video had not been verified, but Prime Minister Shinzo Abe has said it is likely credible.
A stream of doctored images from the first video have appeared on Japanese Twitter, including cutesy manga-like figures juxtaposed on top of the images of the two kneeling hostages as well as the masked man standing in the middle.
Nobuyuki Hayashi, a consultant and technology journalist, who knew Goto in junior high school, says he finds Twitter chatter disturbing, because of the anonymity that allows people to voice irresponsible and sometimes hurtful views.
"We needed to avoid these Japanese netizens cloaked under anonymity to make any constructive discussion," Hayashi said.
Many Japanese are worried for Goto, but don't know what to do and feel frustrated, he said. The Facebook page allowed them to do something. They can also see the concerns of others around the world.
"And that is encouraging," Hayashi said. "And we can all hope that, when Kenji returns to Japan sometime soon, he would be happy to see so many people supporting him."
—
"I am Kenji" Facebook page: http://on.fb.me/1znvAfy
Associated Press