Iran threatens to attack Israel from a new front in West Bank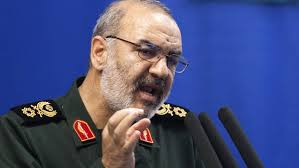 The Islamic Revolution Guards Corps (IRGC)'s second-in-command, Brigadier General Hossein Salami  vowed Saturday to "open new fronts against Israel and change the balance of power." In an excerpt of an interview with Salami, the IRGC's number two said that Iran and Hezbollah would provide a "special reprisal" to the strike, according to the Tasnim News Agency, adding that opening a new front in the West Bank was in the works.
"This is part of a new reality that will gradually unravel," he was quoted as saying by state owned Press TV.
The Israeli airstrike in Quneitra in the Syrian Golan Heights on Sunday left 12 Iranian and Hezbollah operatives dead including a top Iranian IRGC general and 2 Hezbollah commanders .
Salami said supporting Palestinian and Lebanese resistance fighters as well as creating new defensive infrastructure for Muslims living near the Israeli occupied territories have been and will be on Iran's agenda.
IRGC chief, Major General Mohammad Ali Ja'fari, also warned Israel on Tuesday that the Zionist entity "should await annihilating thunderbolts."
This is the second time Salami threatens Israel with an attack from the west bank .
Last November  he warned  that  the Palestinians in the besieged Gaza Strip and the occupied territories will soon join forces and transform the West Bank into a "hell" for the Zionist regime.
"The Palestinians in the West Bank will not abandon their ideals and someday, not very far from now, the West Bank will turn into a hell for the security of the Zionists, as the sons of the West Bank and Gaza Strip will join hands," Press TV reported on  November 30.