Lebanon army mourns the death of an officer and 4 soldiers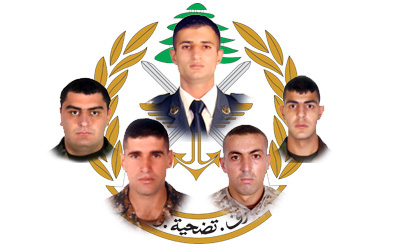 The Lebanese army command announced the death of  Five Army soldiers including one officer  and  the wounding of 16 wounded others  in the  clashes with Islamist  militants  in the outskirts of Ras  Ras Baalbek near the  northeastern border with Syria.
The army identified the victims as :
First Lieutenant Ahmed Mahmoud Tabbeekh, 28, married
Sergeant  Mohammad Niazi, Nasir al-Din, 31, married
Soldier Bilal  Khudr Ahmed, 27, married
Soldier Mohammad Ali Alaeddin, 20, single
Soldier Hassan Ramadan Deeb, 23, single
Update:
The army  said a large number of gunmen had been killed  but did not give figures. A Lebanese security official, who asked to remain anonymous as he was not authorized to speak to the media, said nine gunmen died.
It was not immediately clear which group the attackers belonged to but Syria-based jihadist groups such as al Qaeda's Nusra Front and the ultra-hardline Islamic State have attacked Lebanon in recent months.
Ras Baalbek is near the town of Arsal, where Sunni Islamist militants staged a deadly incursion in August and seized a group of Lebanese soldiers. The militants have since killed some of the soldiers and around two dozen remain captive.