Kurds ejected Islamic State militants from large area in northern Iraq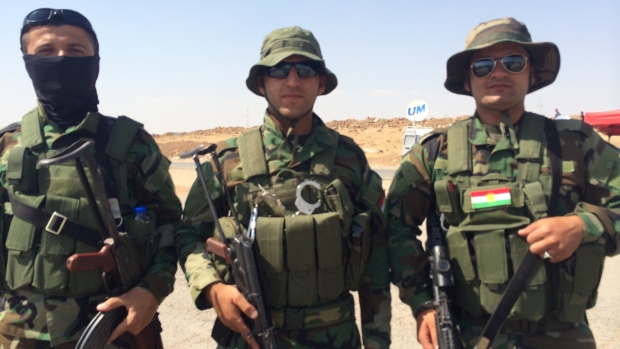 Kurdish forces claimed to have pushed back Islamic State militants from a 300-square-mile area of northern Iraq on Wednesday and said they cut one of the extremist group's key supply lines to the occupied city of Mosul.
The multi-pronged operation, which began in the early morning, involved about 5,000 Kurdish soldiers, known as peshmerga, and was backed by U.S.-led airstrikes, according to a statement from the government of Iraq's semi-autonomous Kurdish region.
The offensive came amid speculation that Iraqi forces are preparing for an assault on Mosul, one of Iraq's biggest cities, which was seized by Islamic State extremists in June as they swept across the north. Under pressure from airstrikes and paranoid about informants, the militants have cut phone lines and Internet connections to the city in recent months.
The Kurdish troops advanced through a string of villages and a key highway intersection, encircling Mosul on three sides and cutting supply lines between the city and nearby Tal Afar. Kurdish authorities claimed that at least 200 Islamic State fighters were killed, with the militants using 14 suicide car bombs in an attempt to fend off the assault. Three of the militants' explosive-packed vehicles were struck by coalition airstrikes, the officials said.
It was not possible to confirm details of the Kurdish officials' account independently. Islamic State forces swept into western Iraq a year ago and now control large swaths of the country.
The Kurdistan region's security chief, Masrour Barzani, told a news conference that the extremists were feeling "much more heat."
"This is a very important and strategic area that has come under the control of the peshmerga, which significantly reduces the movement of ISIS in that area," he added.
The Iraqi national security forces were not involved in coordinating the assault, officials said. They added that Kurdish forces do not intend to move beyond areas with largely Kurdish populations, with the operation to secure Mosul the responsibility of the central government is Baghdad.
"Mosul is more isolated, and I hope that the Iraqi government can play its role and participate in liberating other parts of the country, especially Mosul," Barzani said.
Fighting continued into the night on Wednesday, while security forces began clearing secured villages of explosives planted by the militants, officials said.
Washington Post