Siniora postpones STL testimony for health reasons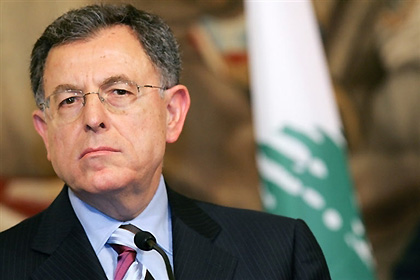 Former Lebanese Prime Minister  and current leader  of the Future parliamentary bloc  MP Fouad Siniora said in a statement Friday that he had asked  the Special Tribunal for Lebanon ( STL) , to delay his testimony that was scheduled for early next week for health reasons.
According to media reports   Siniora was supposed to travel to The Hague for his testimony before the international court investigating the 2005 assassination of former Prime Minister Rafik Hariri.
"He didn't refuse to testify," the  statement stressed.
Siniora was  an advisor and a close friend to Hariri . He served as Minister of Finance in Hariri's successive cabinets and was the Chairman and Managing Director of Groupe Mediterranee, a banking group that was owned by Hariri .
Former MP and minister Dr. Ghattas Khoury appeared in The Hague as a witness on Thursday before the Special Tribunal for Lebanon to testify on the period that preceded and followed the extension of the term of former Lebanese President Emile Lahoud.
Khoury, who was also  an advisor to the slain PM  Hariri and who opposed Lahoud's term extension , spoke of how the Syrian regime influenced political life in Lebanon and how Syria undermined the Lebanese constitution in 2004 in order to extend Lahoud's term in office.
For several hours, Khoury  recounted the intimidation practiced by the Damascus regime toward the Lebanese officials, citing the hegemony the Syrian regime de facto exercised over Lebanese institutions .
Hariri's relationship with the the Syrian regime and its Lebanese allies continues to be a key concern for STL , as prosecutors seek to find a political motive for the former leader's assassination.
 Five Hezbollah members accused of complicity in the attack are being tried in absentia at The Hague-based court, because the leader of the Iranian backed Shiite militant group Hassan Nasrallah refused to hand over the 5 suspects to STL for trial.
Khoury's testimony is part of a broader arc of the trial examining tensions between Hariri and the Syrian leadership and its allies in Lebanon.
The STL has been hearing the testimonies of a number of witnesses who were close to Hariri in the months preceding the assassination.
MP Marwan Hamadeh, who survived an assassination attempt in 2004 that was blamed on the Syrian regime  gave his testimony in late 2014 and journalist Faisal Salman gave his testimony at the resumption of the hearings in 2015.
The   February 14 , 2005 blast blast killed 22 people including Hariri and wounded 226.
Several assassinations  of prominent anti -Syrian  Lebanese  leaders  followed the Valentine day blast  .