Koffi Annan advises Nigeria to use "carrot and stick" to end Boko Haram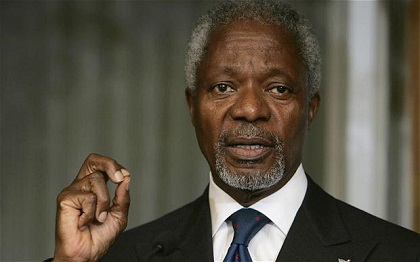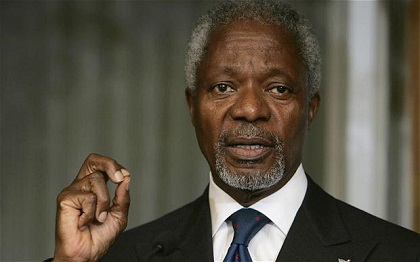 As the Nigerian military continues to wage war against the Islamist militants group, Boko Haram, in northern Nigeria, former United Nations Secretary General, Kofi Annan, has advised the Federal Government on what to do to end the sect's insurgency.
Annan, who is in Nigeria to support next month's general election in the country, while speaking on BBC World Service Radio stated that what the Nigerian military needs to do is to "talk to Boko Haram, as well as maintaining military pressure".
According to Annan, the Nigerian government should not only use force against the insurgents but should also try to reach out to the terrorists to find out those sponsoring the Islamist group.
In his words: "In this kind of situation, you don't have one policy you have to reach out to the terrorists to find out those behind them and that doesn't mean the military should stop the use of force."
Commenting on how the huge number of internally displaced people in Borno, Yobe and Adamawa State would be able to cast their votes in next month's general elections, Annan said that those conducting the polls in Nigeria have told him that voting would be held in various camps of the displaced people in northern Nigeria.
The former UN Secretary General said he hoped whoever wins the Nigerian election will focus on ending the insurgency before it spreads further.
He said the international community can help, but cannot solve Nigeria's problems.
It would be recalled that Annan was in Abuja on Wednesday at the election sensitization workshop organised by the presidency for political parties in Nigeria ahead of next month's polls.
Fourteen presidential candidates, including President Goodluck Jonathan of the People's Democratic Party (PDP) and Gen. Muhammadu Buhari of the All Progress Congress (APC), signed a peace pact at the occasion.
Carrot and Stick approach
This is not the first time the carrot and stick approach was recommended
Nigeria's former president, Chief Olusegun Obasanjo said on in May 2013 that the root causes of the Islamist insurgency by Boko Haram need to be understood first before the problem can be resolved.
"We have to identify our problem," Obasanjo said, speaking on the sidelines of a conference in Rome on a European Union project against drug trafficking.
"The first thing is to identify the remote and immediate cause of that problem," he said, adding: "I have always prescribed stick and carrot".
Obasanjo said there was "criminality" behind the Boko Haram insurgency — particularly involvement in drug, arms and human trafficking.
But he said there were also fundamental problems with poverty and unemployment in northern Nigeria.
"This is not an issue to be solved by a stick alone… These are issues that you cannot solve overnight," he said at a press conference.
NAIJ