A Hamburg daily that reprinted Charlie Hebdo cartoons attacked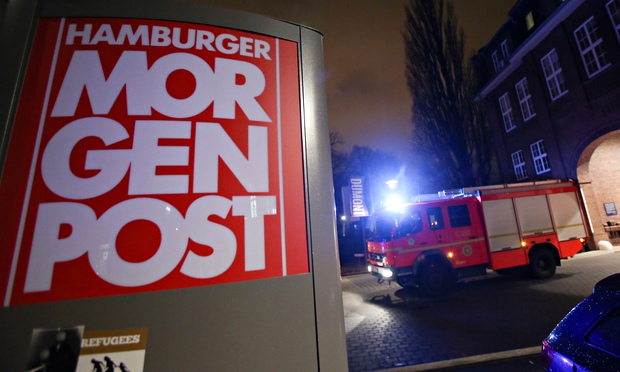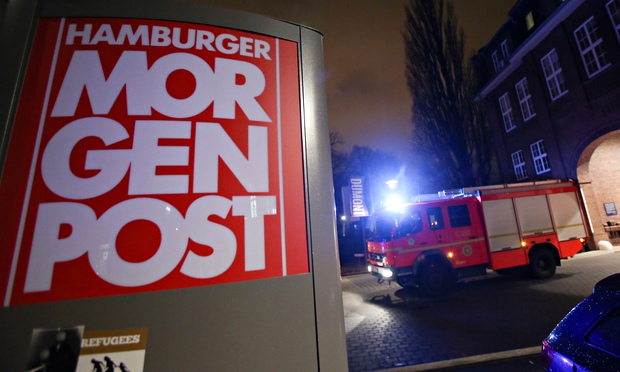 A Hamburg daily that reprinted satirical cartoons from French newspaper Charlie Hebdo was hit by arsonists at the weekend, raising security concerns in Germany on the eve of a planned mass rally against Islam in the city of Dresden.
Islamist militant attacks on Charlie Hebdo and a kosher deli in Paris this week that killed 17 people have fuelled fears of similar assaults in other European countries and prompted a warning from German Interior Minister Thomas de Maiziere.
"I am very concerned about well-prepared perpetrators like those in Paris, Brussels, Australia or Canada," he told the newspaper Bild am Sonntag. There were about 260 people in Germany regarded as dangerous Islamists, he said.
Bild am Sonntag said U.S. intelligence agencies had tapped conversations of senior Islamic State (IS) members in which they said the Paris attacks were the start of a series in Europe.
In Hamburg, two people were arrested after an incendiary device was thrown into a building of the Hamburger Morgenpost daily, setting some documents on fire, police said.
The Morgenpost had reprinted cartoons from Charlie Hebdo in a show of solidarity with the French weekly known for its mocking broadsides against Islam and other religions, and with the principle of freedom of expression overall.
The Hamburg newspaper said there were no people in the building at the time of the attack, and investigators were checking for any connection with the cartoons.
While Chancellor Angela Merkel took part in the silent march in Paris, around 18,000 people attended a rally in front of the French embassy in Berlin, police said, with people holding up slogans like "JE SUIS CHARLIE" and "NO TO RACISM, NO TO PEGIDA".
The Paris attacks have also raised fears of a boost to anti-immigration movements such as Patriotic Europeans Against the Islamisation of the West (PEGIDA). It holds weekly rallies in Dresden with around 18,000 people attending last Monday.
However, that was dwarfed on Saturday by an anti-racism demonstration in the same east German city which attracted 35,000 people.
Elsewhere, German police arrested a suspected supporter of the Islamic State (IS) insurgent group and raided his home in the western state of North Rhine-Westphalia.
The 24-year-old German is suspected of having joined IS during a stay in civil war-torn Syria from October 2013 until November 2014, a federal prosecutor's spokeswoman said.
There were no indications that the man had concrete plans for an attack and there was also no connection to the Paris bloodshed, she added.
As with other west European countries, Germany is struggling to stop the radicalization of disaffected young Muslims, some of whom want to become jihadist insurgents in Syria or Iraq.