Lebanon minister accuses Islamic State of being behind the Tripoli bombing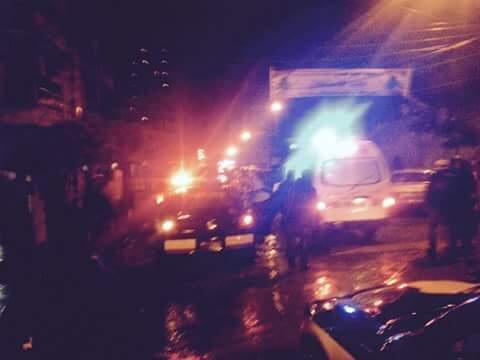 Despite the fact that the  Al-Qaeda-linked Nusra Front quickly claimed responsibility  in  an online posting for the  Tripoli twin suicide bombing  that targeted the Omran cafe in the mostly  Alawite neighborhood of Jabal Mohsen   on Saturday , Interior Minister Nouhad Machnouk said Sunday that preliminary information suggests that ISIL  ( currently known as islamic state )  was behind the attack  that left nine people dead and dozens  wounded.
"Preliminary information indicates that ISIL is behind the explosion," Machnouk said during a press conference held after a security meeting in Tripoli Sunday, stressing that the suicide bombers are members of [ISIL].
Last night the Lebanese Army identified the two suicide bombers  as Taha Samir al-Khayal, 22, and Bilal Mohammad al-Mariyan, 29. Both were Lebanese.
According to Machnouk, the suicide bombers "might" have been tied to Monzer al-Hasan – a militants suspected to have been tied to other suicide bombings in the country. Hassan was killed when security forces raided his apartment in Tripoli last July.
Security forces had intelligence that Hassan provided explosive belts and material to a terrorist cell that was planning to carry out major attacks in Lebanon. Hassan is also suspected of being the main supplier of a Saudi suicide bomber who blew himself up in Beirut's Duroy Hotel last  June.
Hariri offers t pay for damages
Machnouk also revealed  that he was contacted by former Prime Minister and Future Movement leader  Saad Hariri who pledged to pay for the rehabilitation of the area damaged in Saturday's explosions.
"This generous and patriotic move from Hariri serves to turn the page of the past and to move forward towards national consensus and support for the state," Machnouk, , a key member of  the Future Movement, said.
The minister stressed that the Lebanese can only combat terrorism if they were united and warned that the security situation will deteriorate in Lebanon  due to the ongoing war in neighboring  Syria.
Saturday's suicide bombings came hours after Lebanon's judiciary issued a new arrest warrant against the the leader of the  Arab Democratic party (ADP )  MP Ali Eid after he did not show up for a hearing Saturday.
Eid , a key ally of Syrian president Bashar al Assad,  fled to Syria with his son Rifaat last June.
Eid has been charged with aiding a suspect in a twin bombing that targeted the Al-Taqwa and Al-Salam mosques in Tripoli in August 2013 , killing 47 people and wounded dozens of others.
The Cafe that was targeted in the attack belonged to ADP ,  the main party  representing the Alawite community  in Lebanon.
3 detained
The army detained on Sunday three people pending an investigation in links to the twin suicide bombing,National News Agency  reported
The three have friendship links with the suicide bombers, NNA said.
The 3 were  identified  as Ali Kheireddine, Monzer Shamseine and Wael Afioni.
Lebanese security forces believe the bombers lived in Mankubeen, a majority Sunni neighborhood just 500 meters away from Jabal Mohsen.